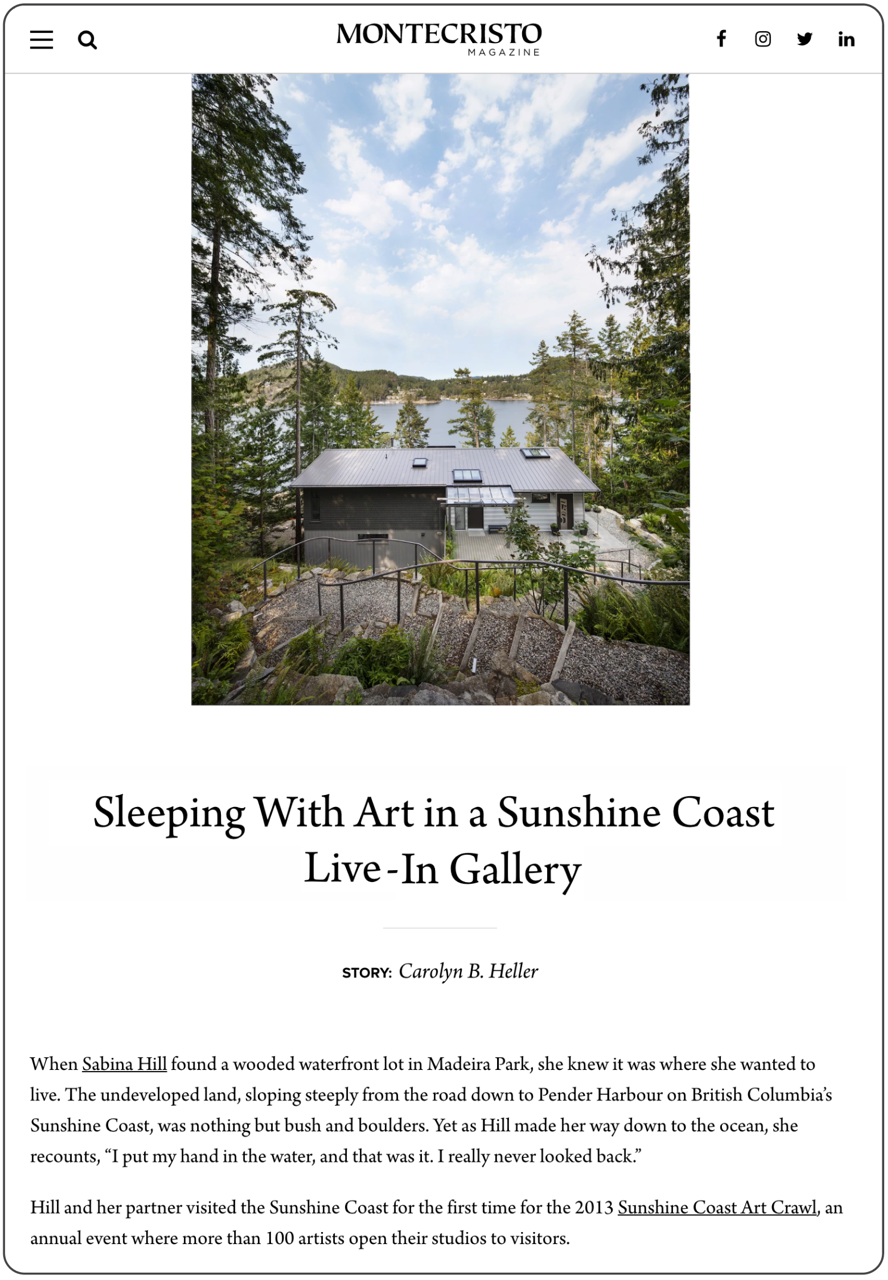 Sleeping with art in a Sunshine Coast live-in gallery
" 'Since many of the pieces that Hill designs, including tables, chairs, etched glass, rugs, and ornately carved wood panels, are intended to be used in her clients' homes, she wanted her Sunshine Coast residence to be a "live-in gallery," showcasing her work in a domestic setting. Compared to seeing a piece in a more traditional art gallery, she says she can show visitors, "Here's how you
actually use these things.' "
Montecristo Magazine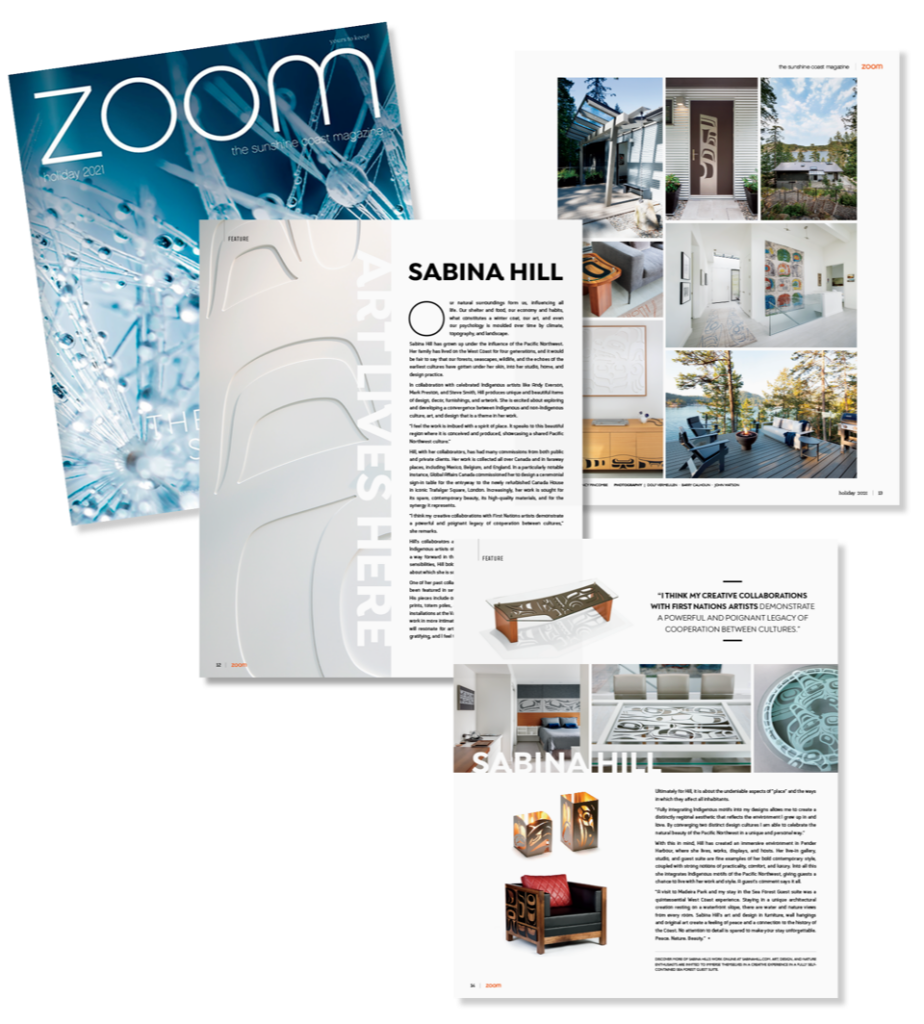 Sabina Hill
Art Lives Here
" 'I think my creative collaborations with First Nations Artists demonstrate a powerful and poignant legacy of cooperation between cultures.
I feel the work is imbued with a spirit of place. It speaks to this beautiful region where it is conceived and produced, showcasing a shared Pacific Northwest culture.' "
Zoom The Sunshine Coast magazine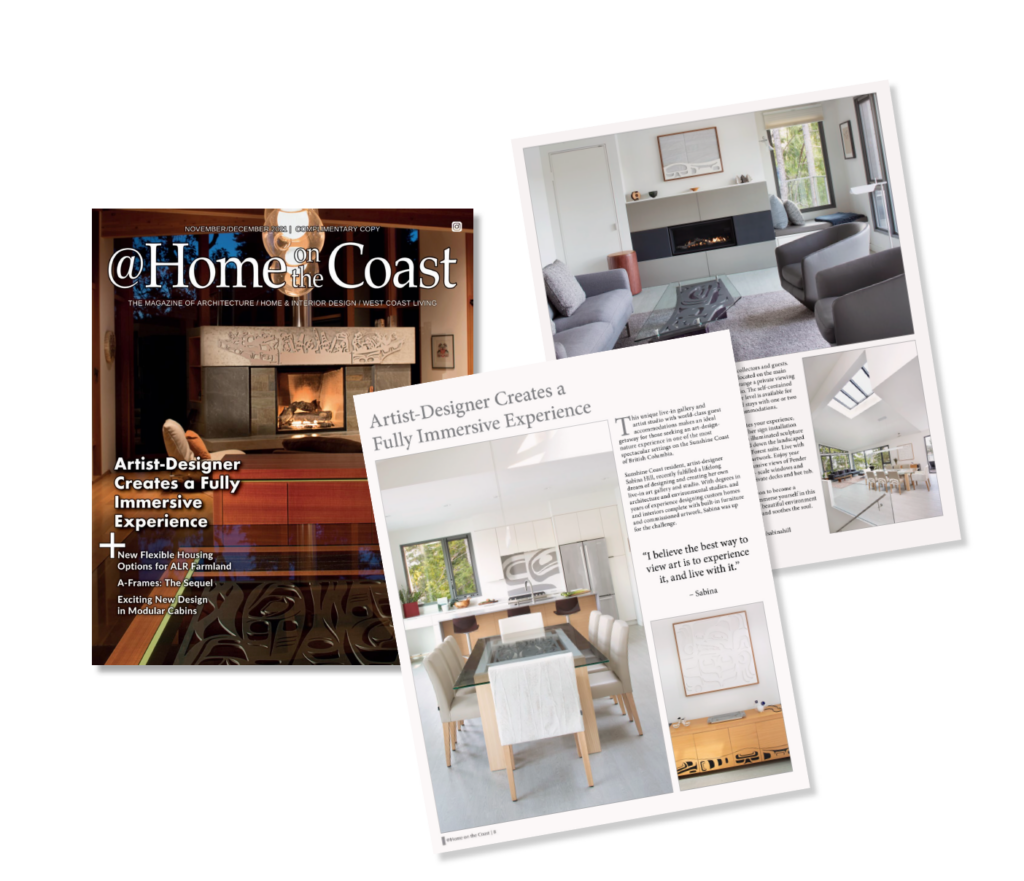 ARTIST-DESIGNER CREATES A FULLY
IMMERSIVE EXPERIENCE
"This unique live-in gallery and artist studio with world-class guest accommodations makes and ideal getaway for those seeking an art-design-nature experience in one of the most spectacular settings on the Sunshine Coast of British Columbia."
"Sunshine Coast resident, artist-designer, Sabina Hill, recently fulfilled a lifelong dream of designing and creating her own live-in art gallery and studio. With degrees in architecture and environmental studies, and years of experience designing custom homes and interiors complete with built-in furniture and commissioned artwork, Sabina was up for the challenge."
@HOME ON THE COAST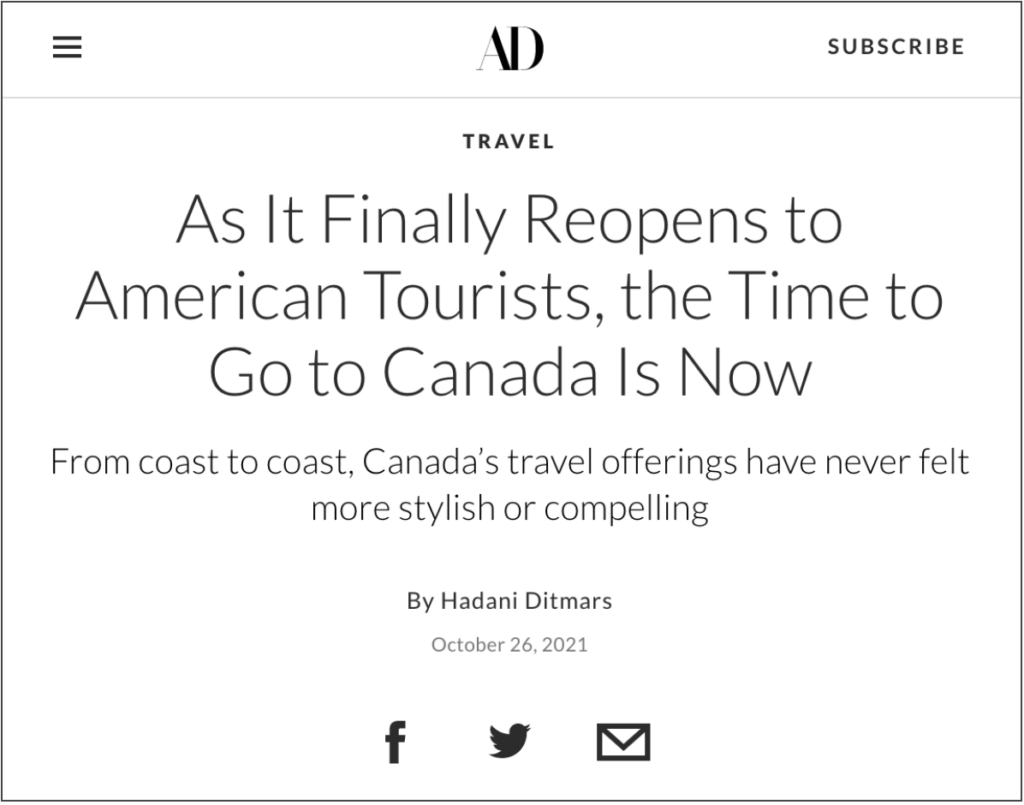 AS IT FINALLY REOPENS TO AMERICAN TOURISTS, THE TIME TO GO TO CANADA IS NOW
"Meanwhile, on the nearby Sunshine Coast, artist-architect designer Sabina Hill has created her own version of a Gesamtkunstwerk, with her inspired new guest suites that are living galleries showcasing her sculptures and furniture. Hill designed her own home with a live-in gallery and studio for her waterfront property in secluded Pender Harbor in 2019.
Now, with three new adjoining guest suites that opened this summer, visitors can experience a truly immersive experience, living with Hill's First Nations–inspired art and furniture, produced in tandem with local Native artists and artisans, and collaborating on commissioned pieces. Choose from the Sea Forest suite, or the Thunderbird and Frog rooms, and drink in both the beauty of Hill's design and the surrounding water, greenery, and ancient cultures that inspired it."
ARCHITECTURAL DIGEST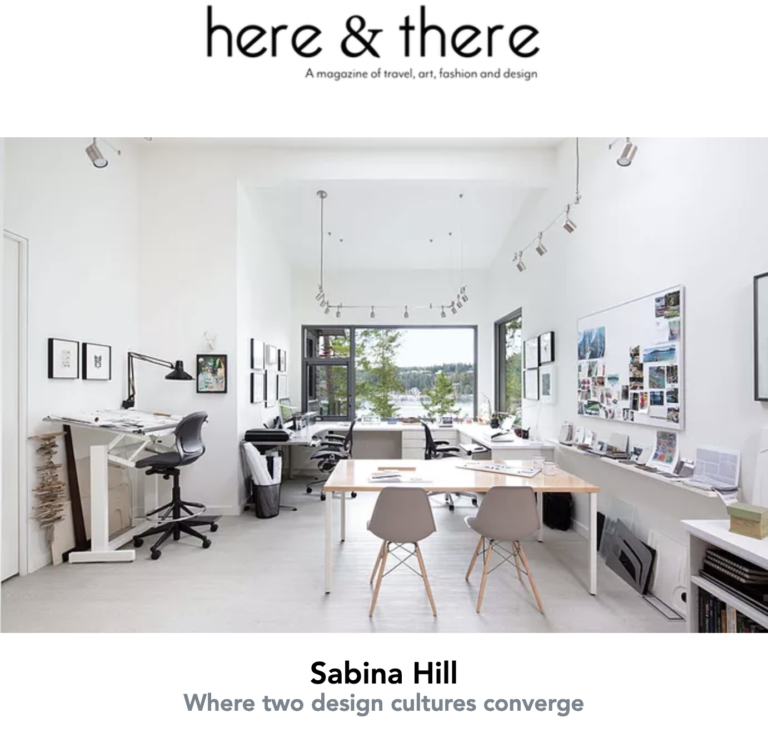 WHERE TWO DESIGN CULTURES CONVERGE
"Sabina relocated to Pender Harbour on BC's Sunshine Coast to realize her dream of designing her home with live-in gallery and studio on waterfront property in 2019.
This unique live-work space includes a well-appointed private guest suite for those who wish to live with her art in a truly immersive experience, observe her creative process, and collaborate on commissioned pieces."
HERE AND THERE MAGAZINE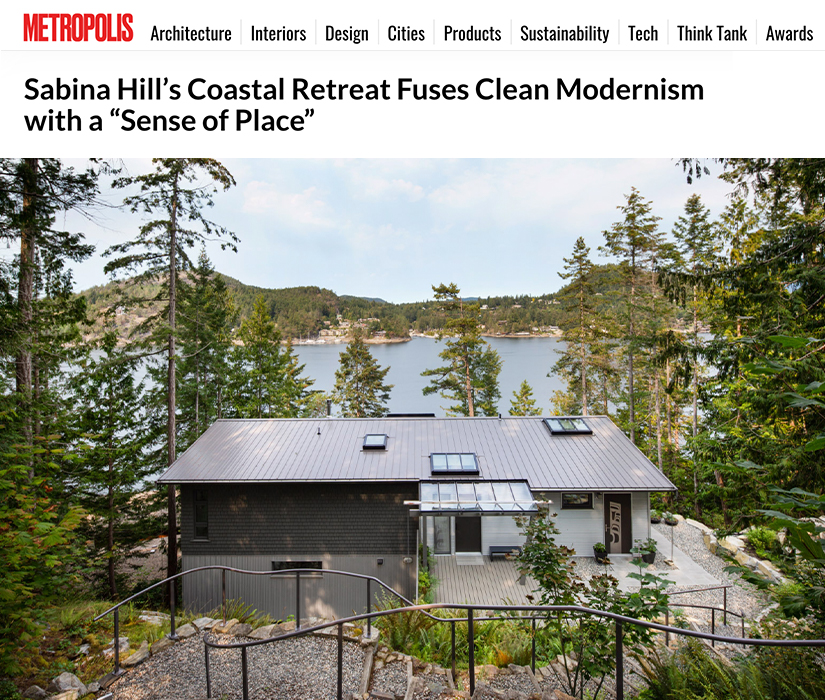 COASTAL RETREAT FUSES CLEAN MODERNISM WITH A "SENSE OF PLACE"
"There's a narcotic beauty at Pender Harbour on British Columbia's idyllic Sunshine Coast—surrounded by Pacific waters and old growth forests—that's hard to match. But somehow, in her newly opened guest rooms, local artist/architect/designer Sabina Hill manages to capture its essence in aesthetic form. Mesmeric views are reflected in the three exquisitely designed suites' interiors, artworks, and accessories."
METROPOLIS MAGAZINE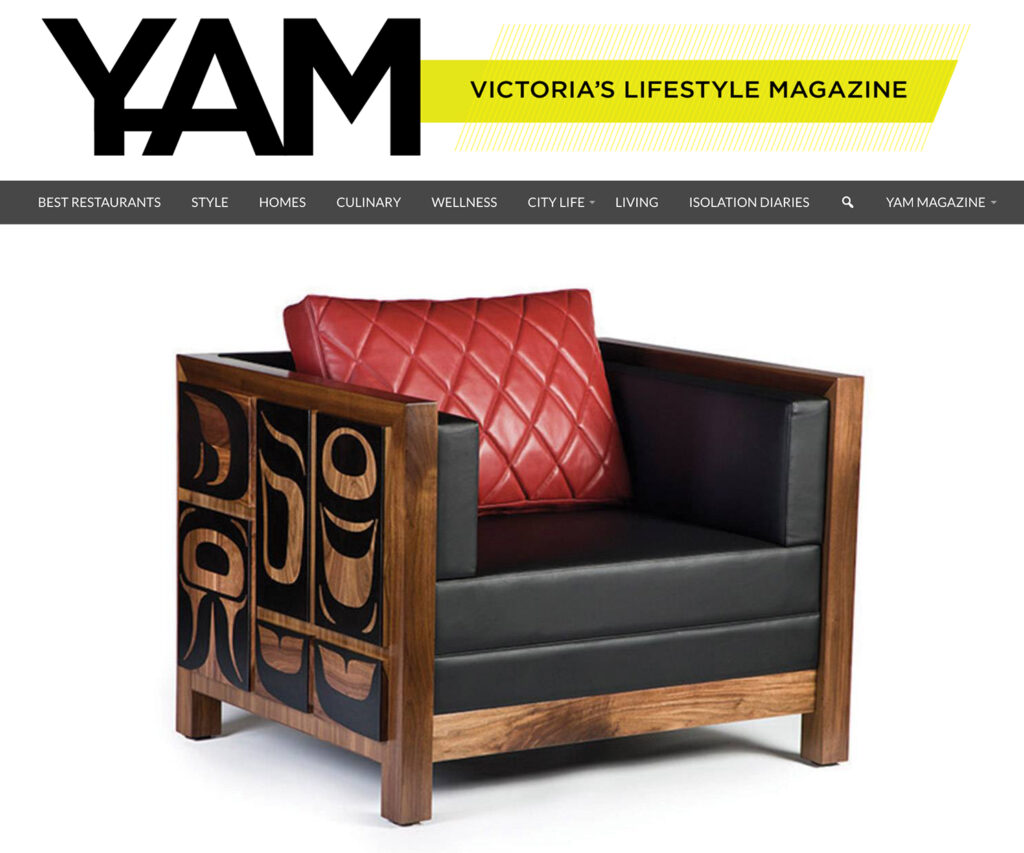 B.C. DESIGNERS ARE FINDING A GLOBAL AUDIENCE
"Sabina Hill's work can be found in Canada House High Commission of Canada in London, England; the Joint Delegation of Canada to NATO in Brussels, Belgium; the Canadian consulate in Guangzhou, China; and the Official Residence in Berlin, Germany."
YAM MAGAZINE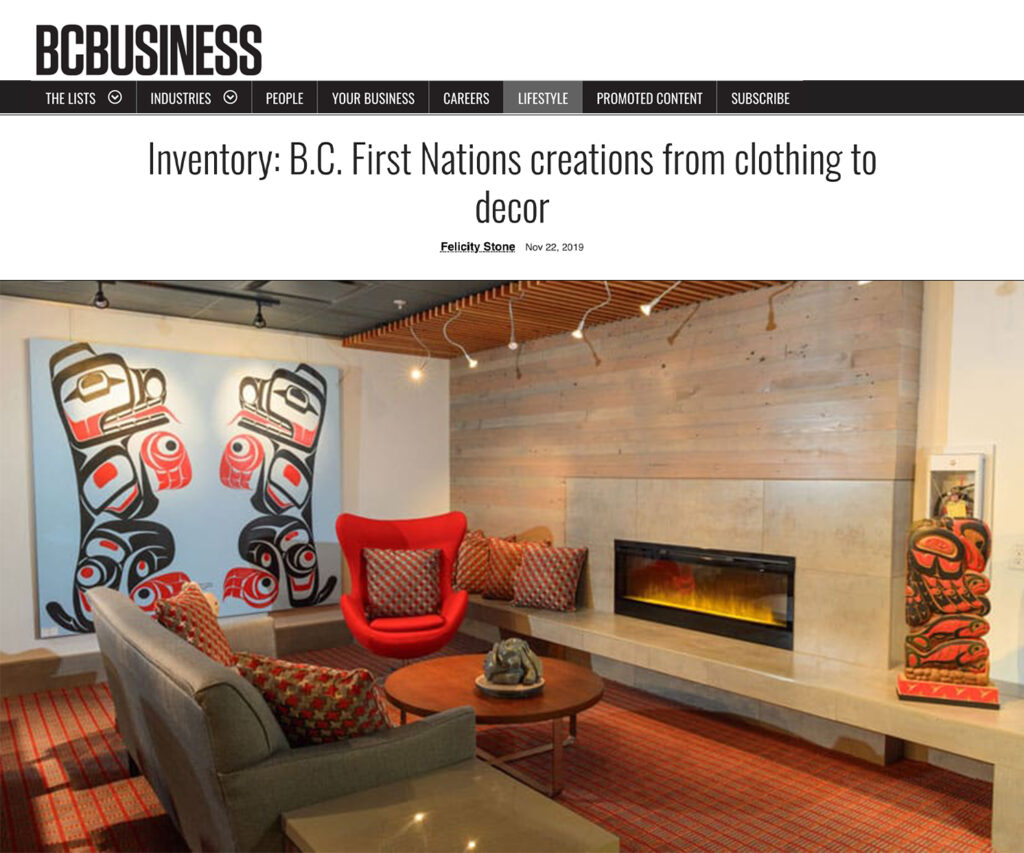 GOING COASTAL
"Pender Harbour–based artist and designer Sabina Hill collaborates with First Nations artists to create art, furniture and interiors with a Pacific Northwest Coast aesthetic."
BC BUSINESS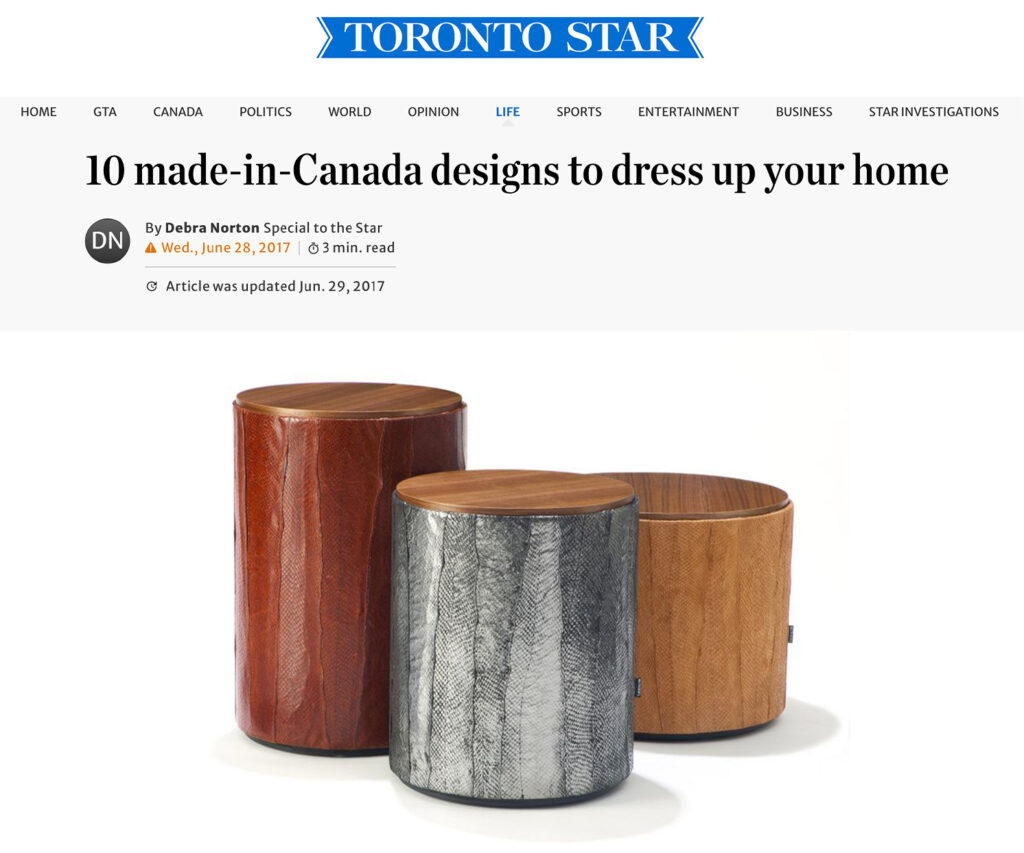 10 MADE-IN-CANADA DESIGNS TO DRESS UP YOUR HOME
"Artist and designer Sabina Hill uses salmon skin, a by-product of food production, to create exotic leather tables with solid walnut tops."
TORONTO STAR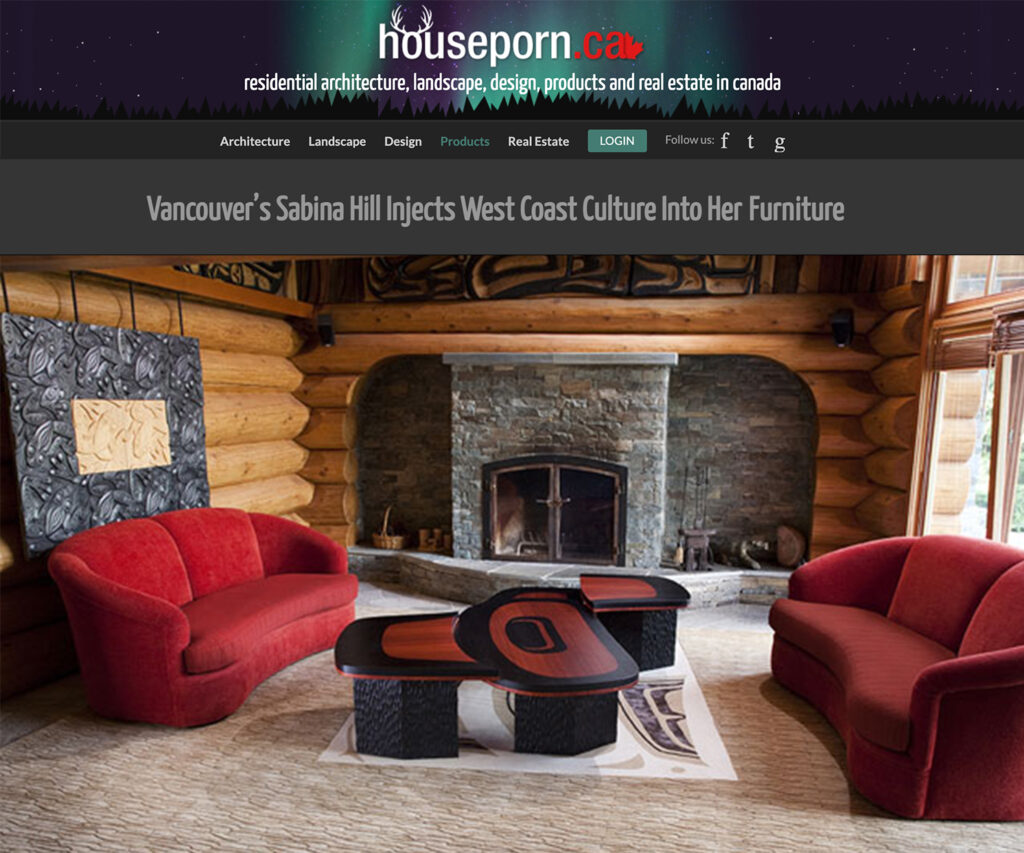 VANCOUVER'S SABINA HILL INJECTS WEST COAST CULTURE INTO HER FURNITURE
"There's Canadiana and then there's museum quality Canadiana. The work by Sabina Hill clearly fits into the latter category."
HOUSE PORN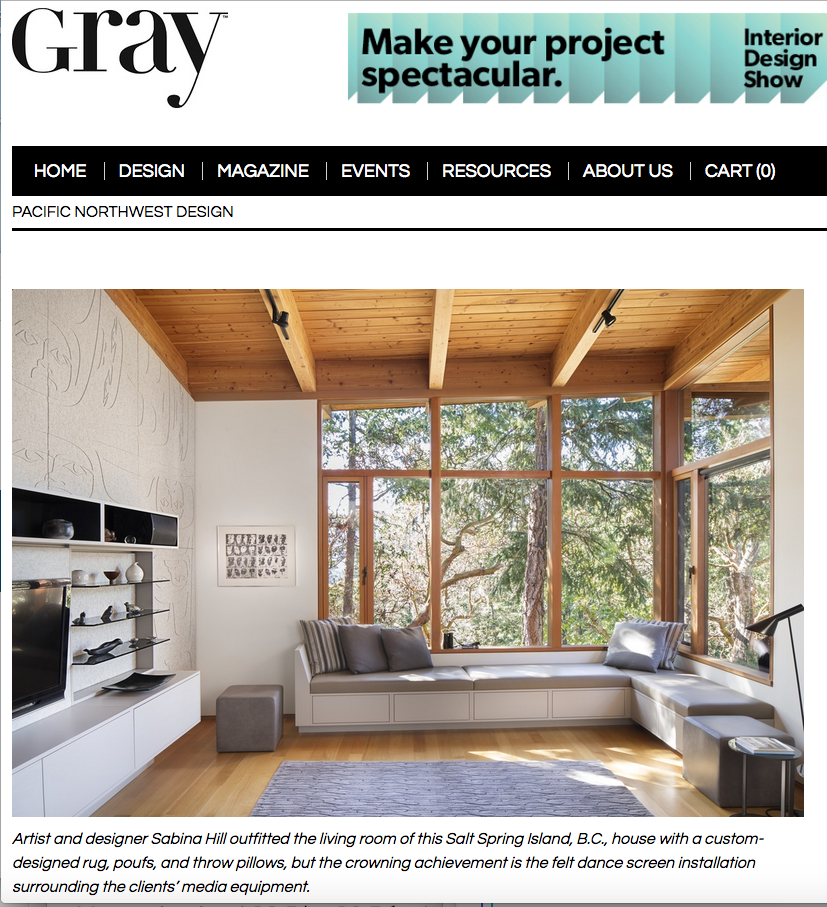 A CROWNING ACHIEVEMENT
"Artist and designer Sabina Hill outfitted the living room of this Salt Spring Island, B.C. house with a custom-designed rug, poufs, and throw pillows, but the crowning achievement is the felt dance screen installation surrounding the clients' media equipment."
GRAY MAGAZINE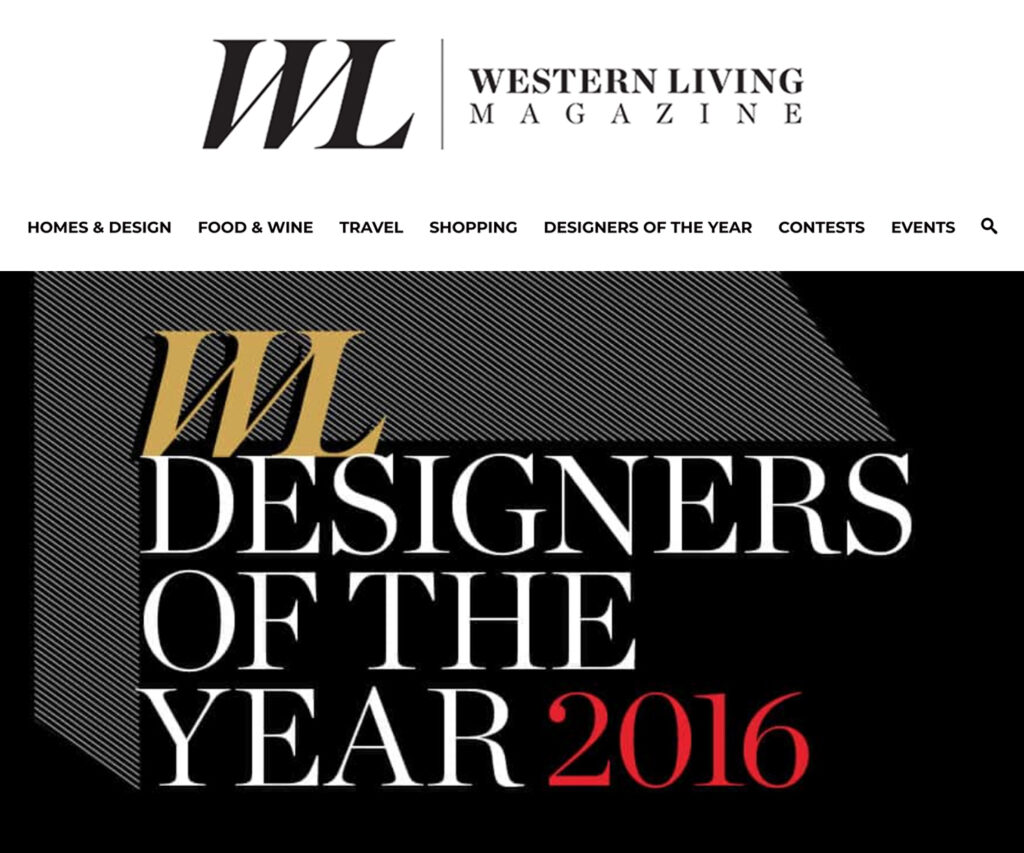 2016 DESIGNERS OF THE YEAR FINALIST
Sabina Hill, Vancouver
WESTERN LIVING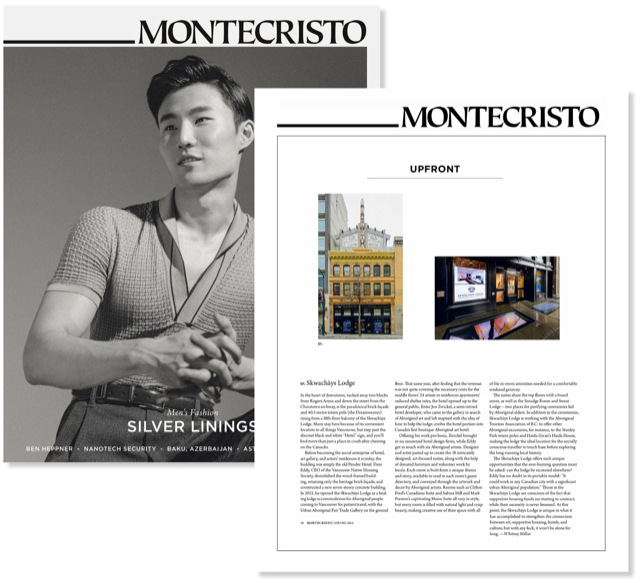 UPFRONT
SKWACHÀYS LODGE
"Each room is built from a unique theme and story, and conveyed through the artwork and decor by Aboriginal artists. Rooms such as Clifton Freds's Canadiana Suite and Sabina Hill and Mark Preston's captivating Moon Suite all vary in style, but every room is filled with natural light and crisp beauty, making creative use of their space with all of the in-room amenities needed for a comfortable weekend getaway."
MONTICRISTO MAGAZINE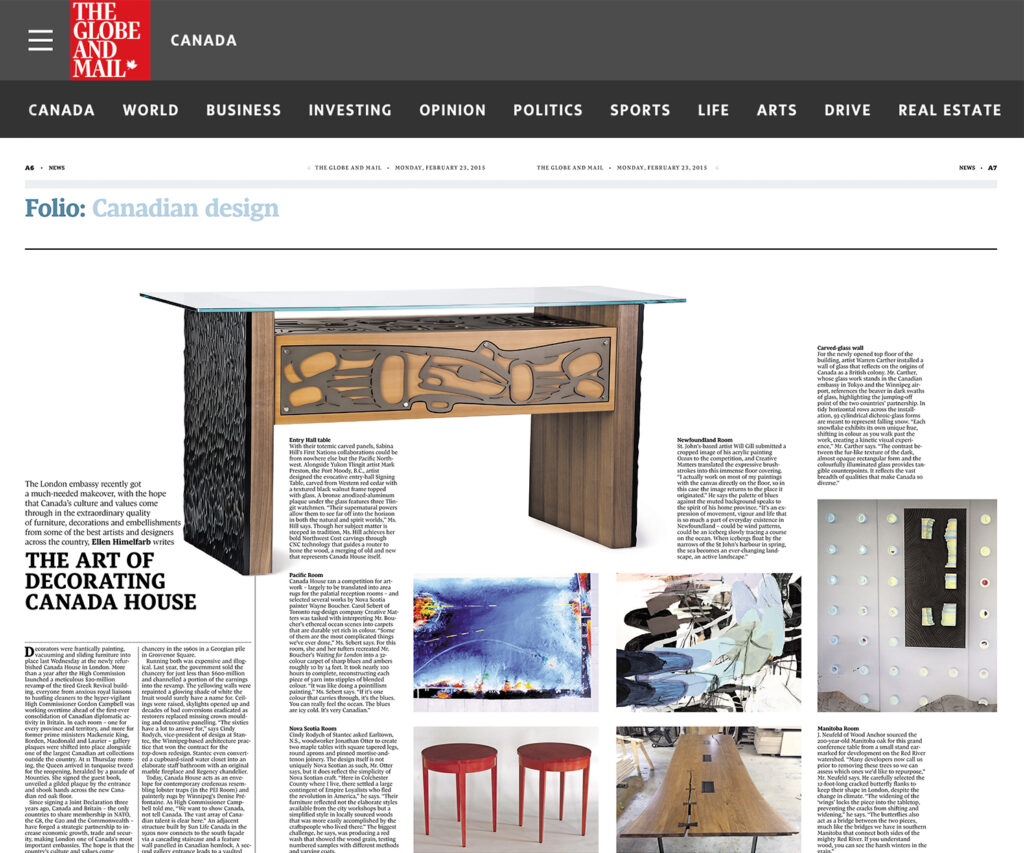 THE ART OF DECORATING CANADA HOUSE
"With their totemic carved panels, Sabina Hill's First Nation's collaborations could be from nowhere else but the Pacific Northwest."
THE GLOBE AND MAIL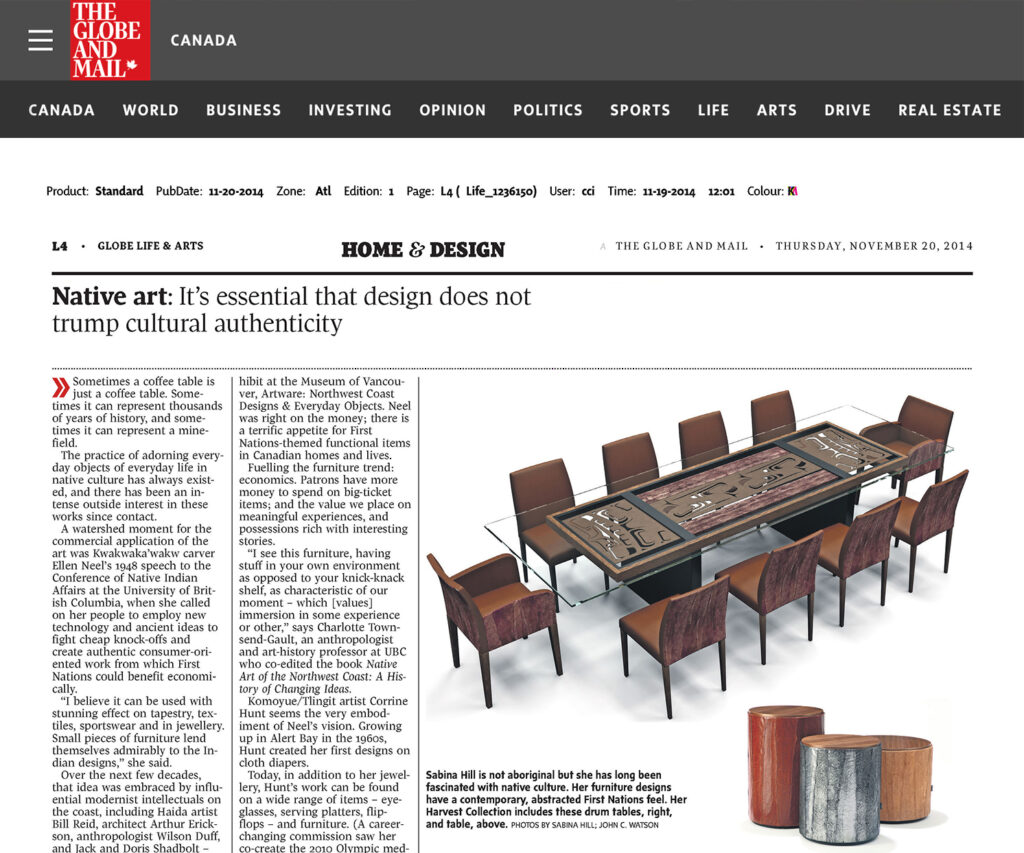 DESIGN DOES NOT TRUMP CULTURAL AUTHENTICITY
"Sabina Hill began thinking about creating furniture with a strong sense of place, 'I thought, how could I make my furniture pieces very much about here? Collaborate with the First Peoples. And have a true collaboration. The motif is very much integrated."
THE GLOBE AND MAIL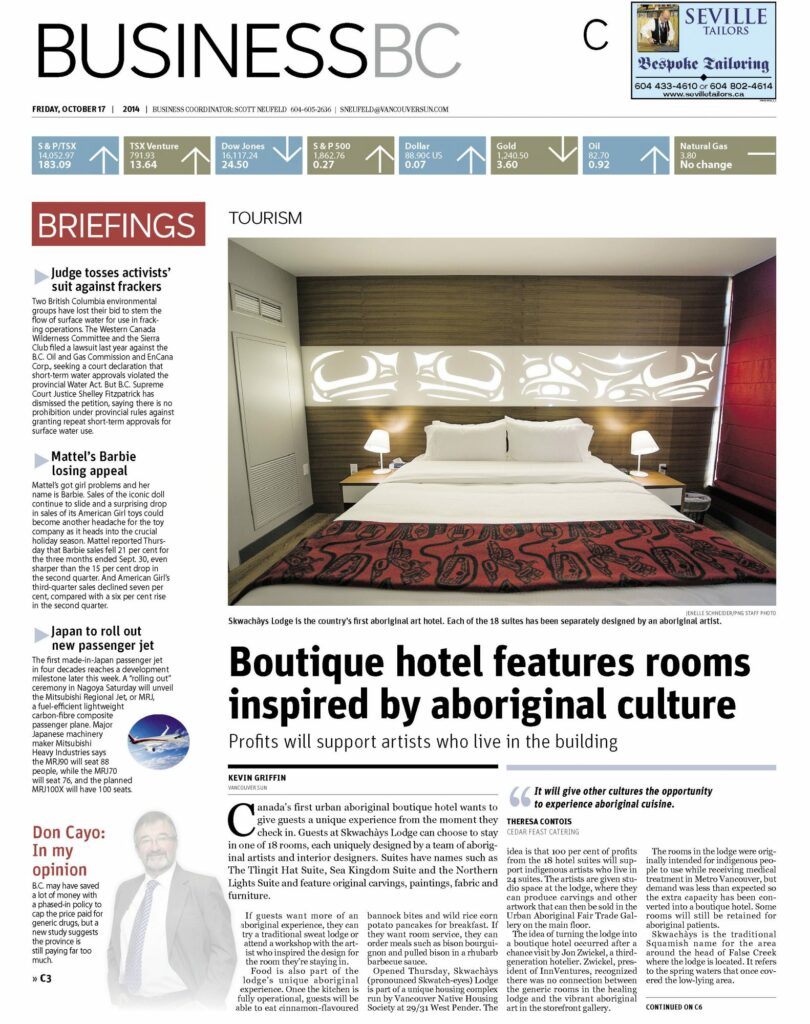 BOUTIQUE HOTEL FEATURES ROOMS INSPIRED BY ABORIGINAL CULTURE
"Longhouse Suite, Sabina Hill & Inside Design Studio. The contemporary minimalist Northwest Coast style features an illuminated headboard."
THE VANCOUVER SUN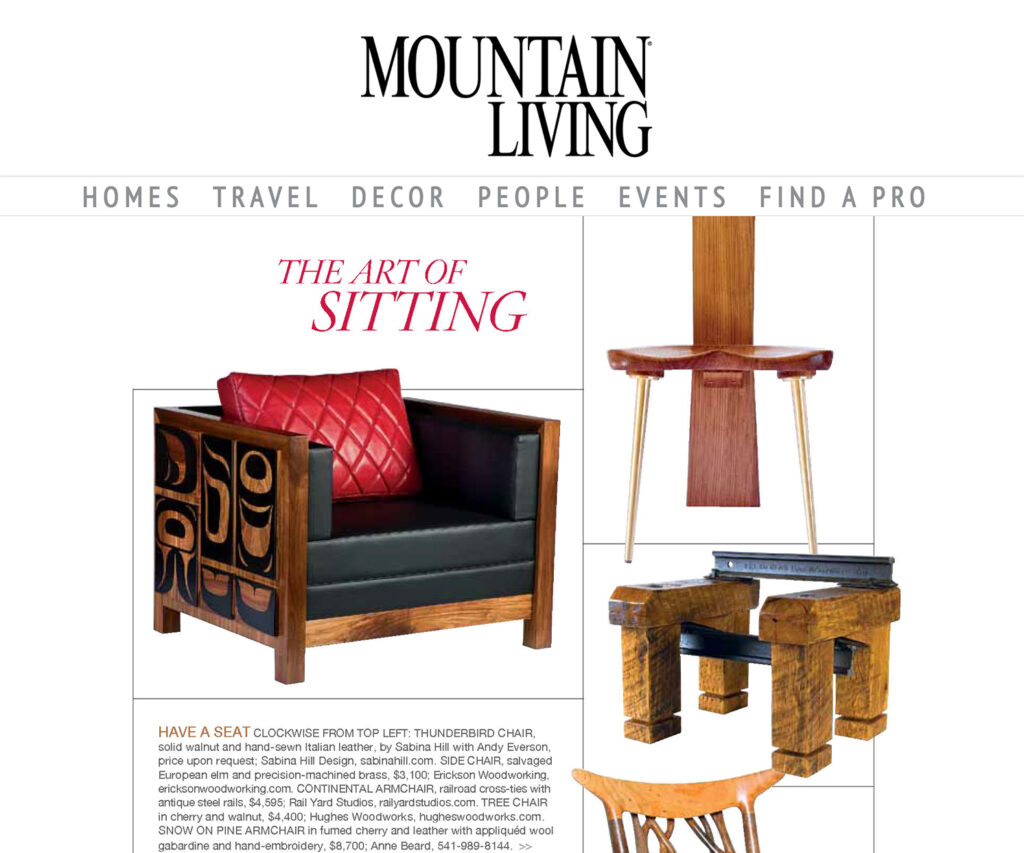 HAVE A SEAT
"Thunderbird Chair, solid walnut and hand-sewn Italian leather, by Sabina Hill with Andy Everson."
MOUNTAIN LIVING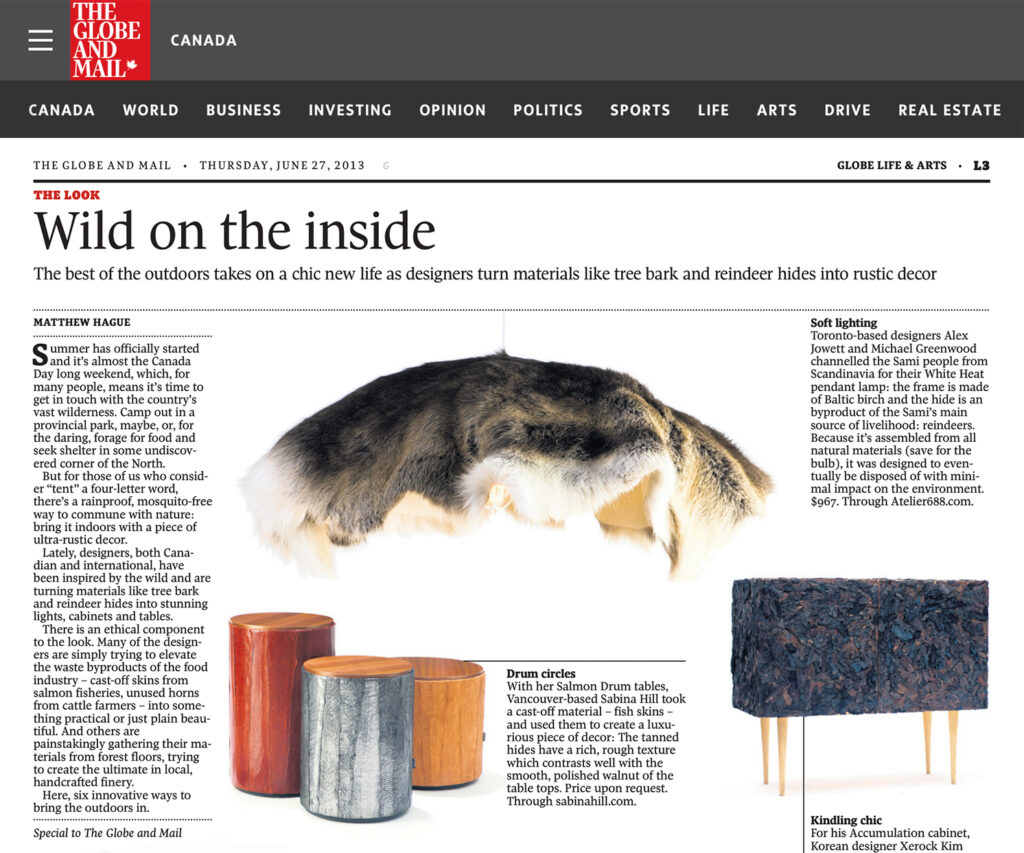 DRUM CIRCLES
"With her Salmon Drum tables, Vancouver-based Sabina Hill took a cast-off material – fish skins – and used them to create a luxurious piece of décor."
THE GLOBE AND MAIL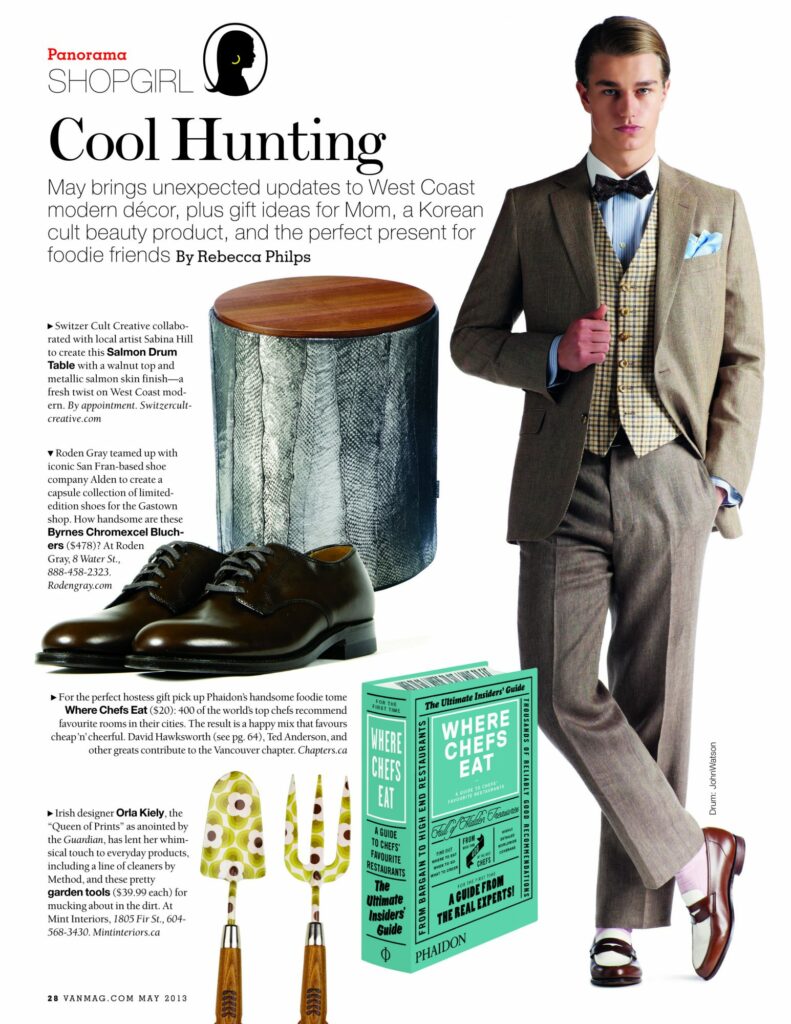 A FRESH TWIST ON WEST COAST MODERN
"Local artist Sabina Hill creates this Salmon Drum table with walnut top and metallic salmon skin finish – a fresh twist on West Coast modern."
VANCOUVER MAGAZINE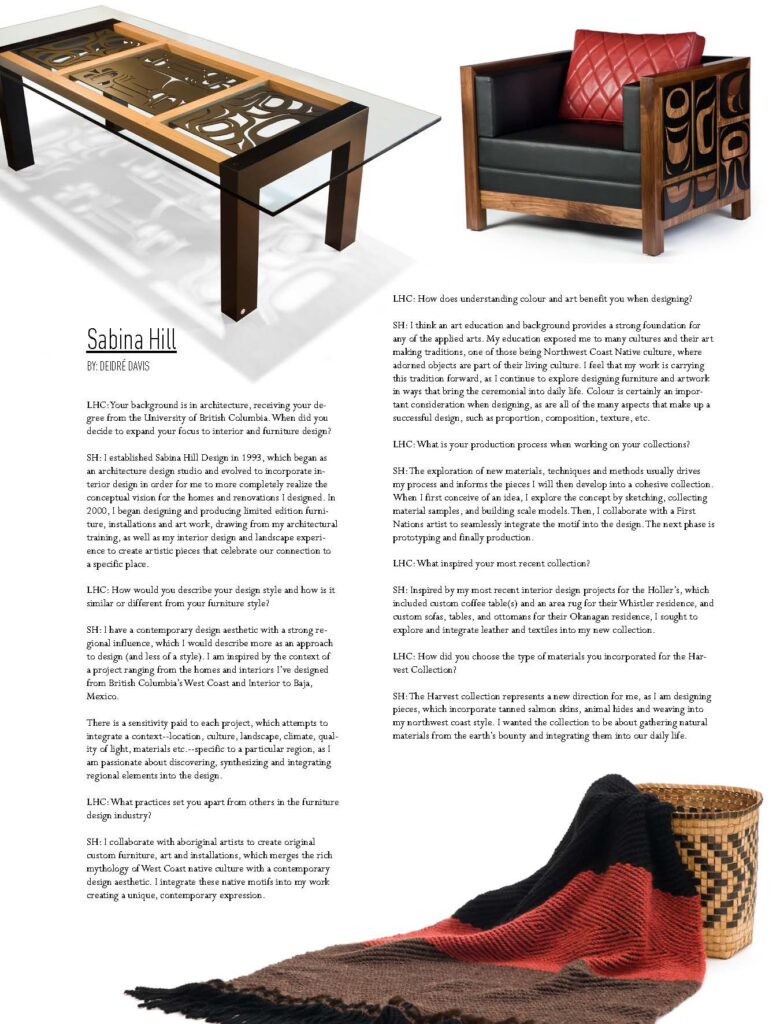 SENSITIVITY PAID TO EACH PROJECT
"There is a sensitivity paid to each project, which attempts to integrate a context – location, culture, landscape, climate, quality of light, materials etc. specific to a region, as I am passionate about discovering, synthesizing and integrating regional elements into the design."
LUXURY HOME CANADA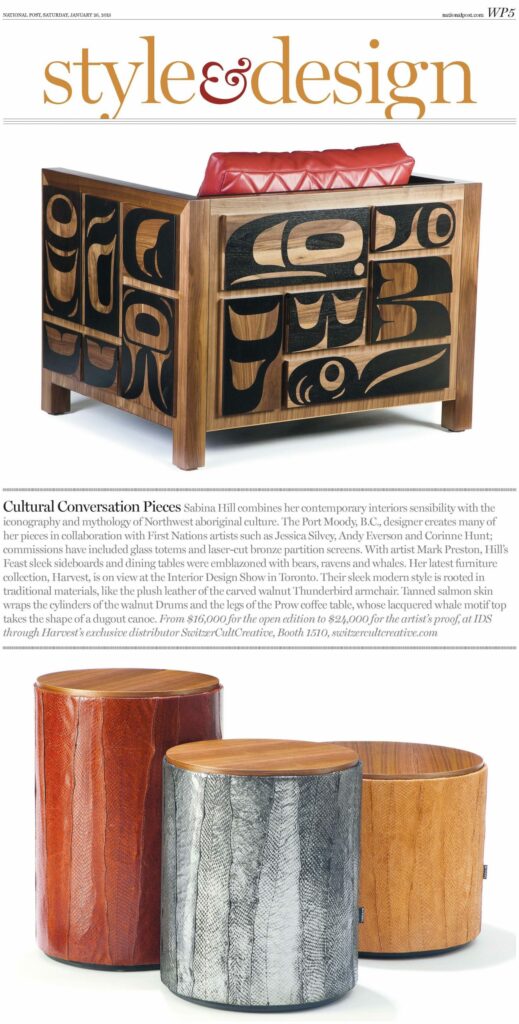 CULTURAL CONVERSATION PIECES
"Sabina Hill combines her contemporary interiors sensibility with the iconography and mythology of Northwest Coast aboriginal culture. Her latest furniture collection, Harvest, is on view at the Interior Design Show in Toronto."
NATIONAL POST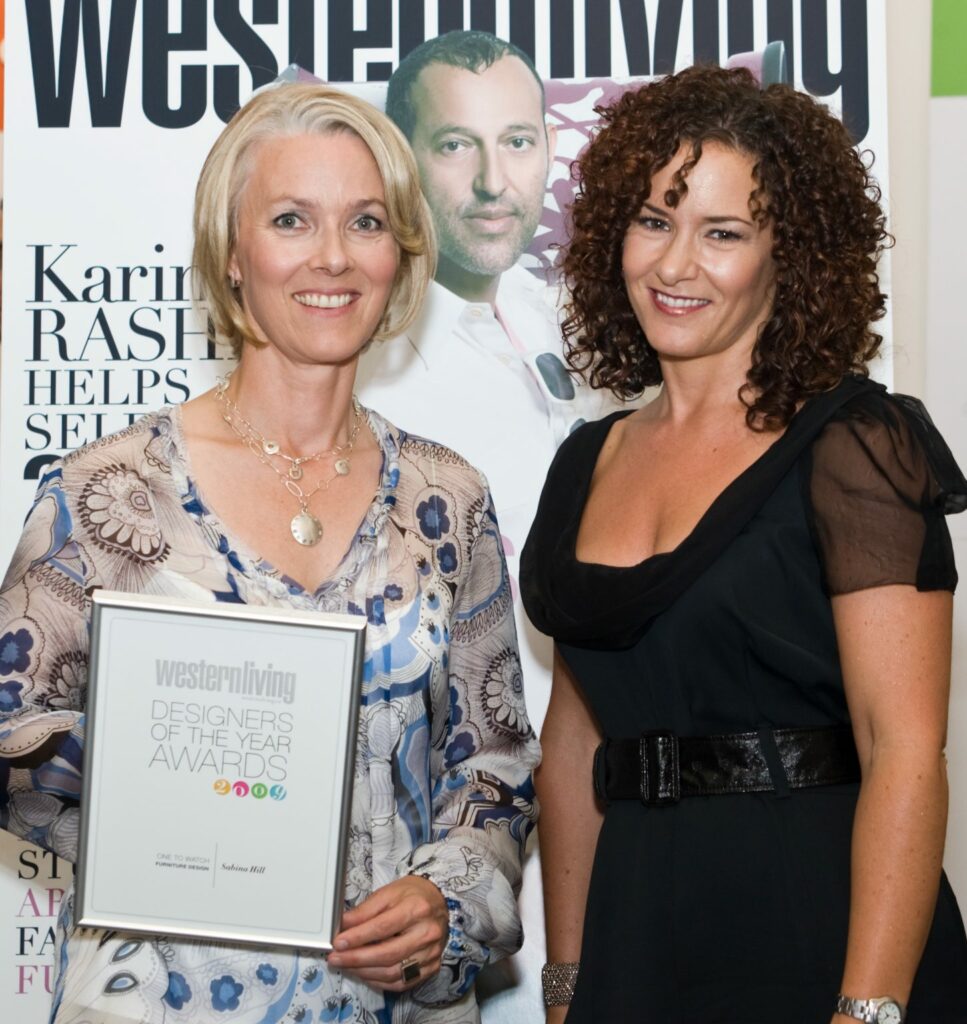 FURNITURE DESIGNER TO WATCH
"Sabina Hill makes Pacific Northwest-inspired furnishings in collaboration with First Nations artists. Informed by her architecture background, the designer incorporates native motifs into sleek pieces. In the past year her work was acquired by the Royal Ontario Museum and shown as part of the 100% Design London show, as well as commissioned by residential and hospitality clients in B.C. and Alberta."
WESTERN LIVING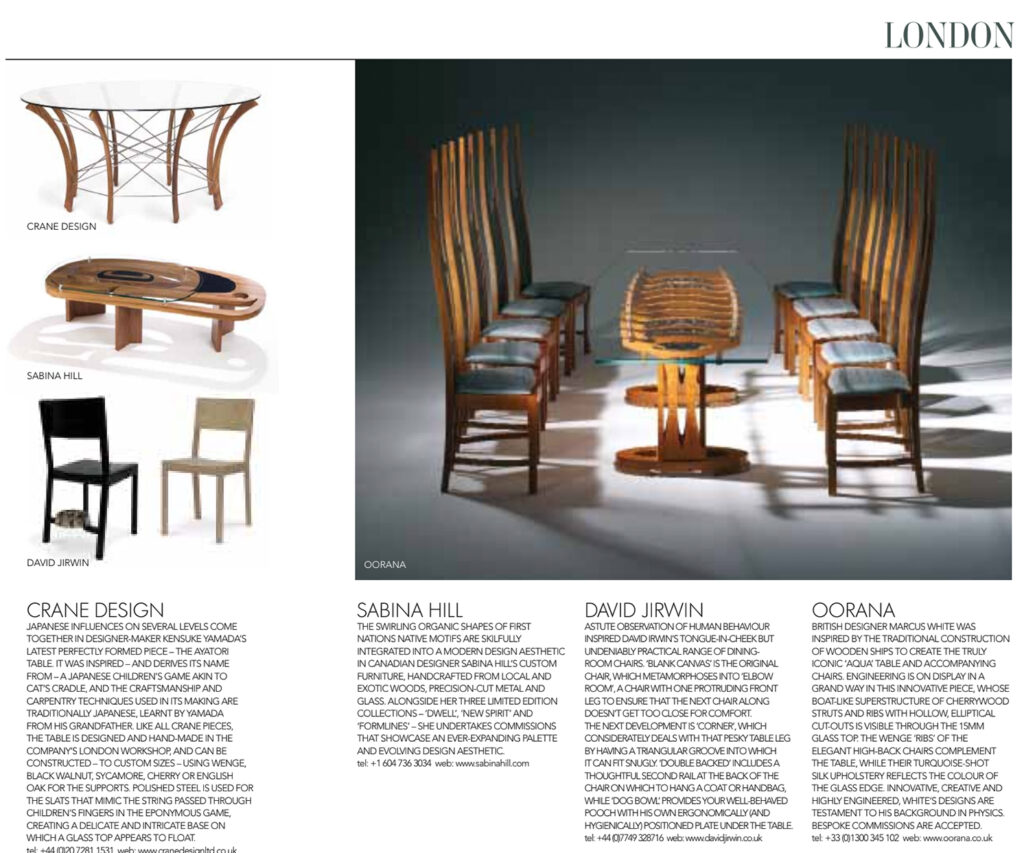 SKILLFULLY INTEGRATED
"The swirling organic shapes of First Nations native motifs are skillfully integrated into a modern design aesthetic in Canadian designer Sabina Hill's custom furniture, hand-crafted from local and exotic woods."
DESIGN INTERNATIONAL LONDON TRENDS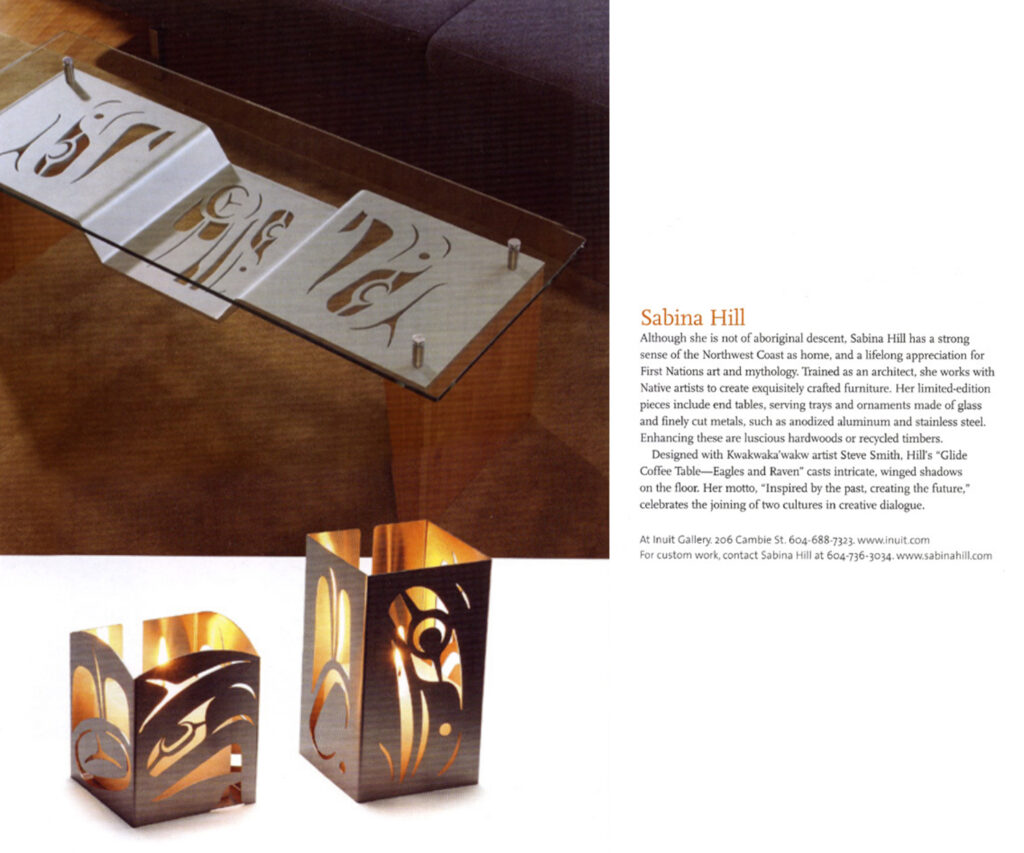 A LIFELONG APPRECIATION FOR FIRST NATIONS ART AND MYTHOLOGY
"Sabina Hill has a strong sense of the Northwest Coast as home and a lifelong appreciation for First Nations art and mythology."
ESSENTIAL VANCOUVER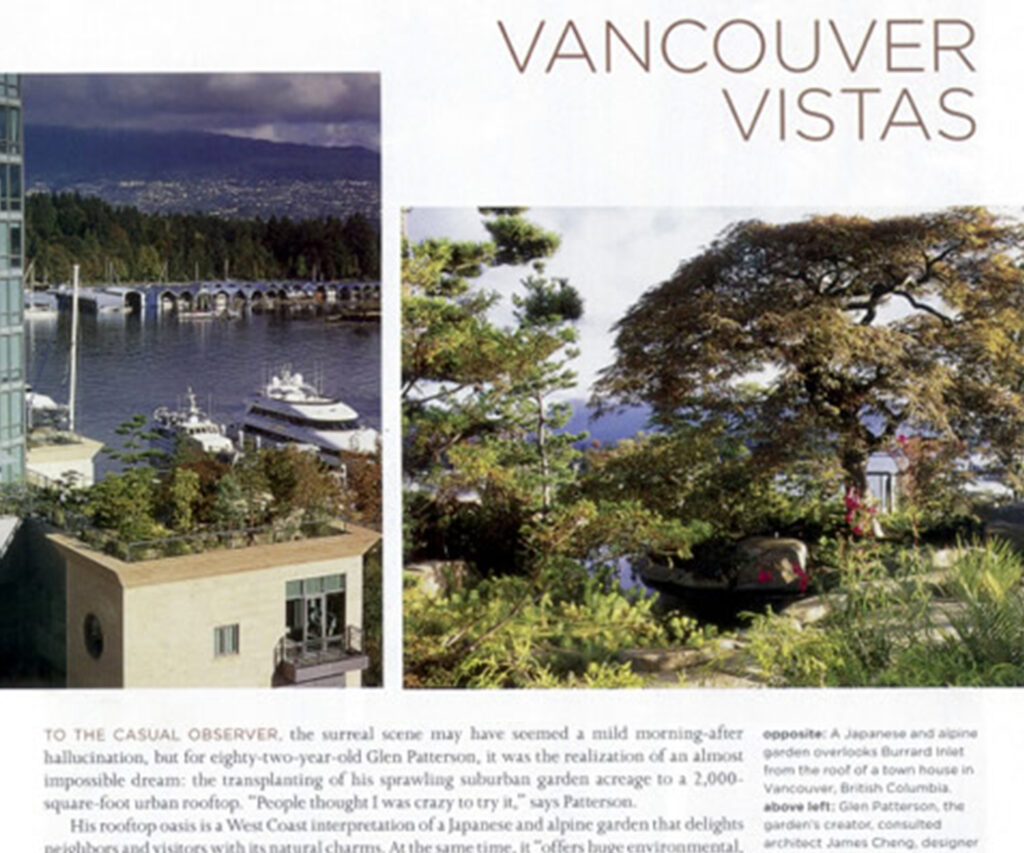 VANCOUVER VISTAS
"My vision was to create a small urban oasis on the roof. The idea isn't just to look at the North Shore Mountains, explains Hill, It's paying attention to the foreground and closer views. So the industrial, downtown context of the garden provides intriguing scenes: a rare form of dwarf coastal redwood seems to spill over into a nearby tower, a wispy Japanese maple tree frames a fuel station in the harbor, and a small waterfall opens up into a city scape."
WESTERN INTERIORS