Sea Forest Guest Suite
Sabina has created an immersive experience for art, design and nature enthusiasts. Visit Sabina's live-in gallery and studio and stay as a guest in the fully self-contained Sea Forest guest suite. One or two ensuited bedrooms available. During your stay you can meet Sabina and live with her evolving portfolio, while enjoying the splendour of the natural surroundings.
Located on waterfront in Pender Harbour on BC's Sunshine Coast, collectors, clients and guests can experience Sabina's architecture, interior and landscape design, artwork and installations in her live-in gallery, studio and private Sea Forest guest suite.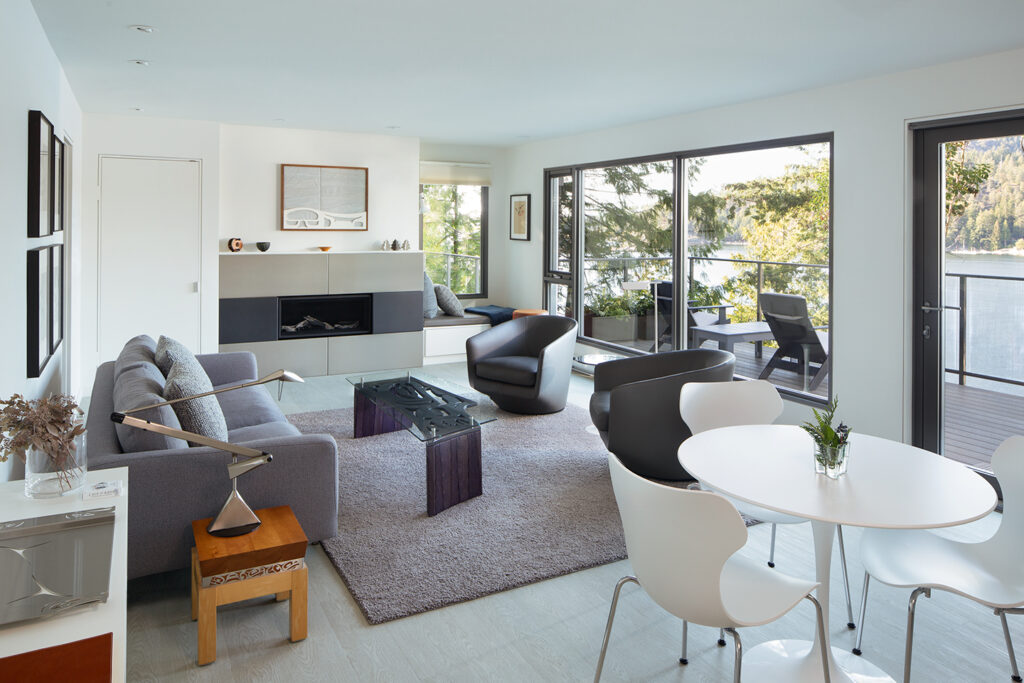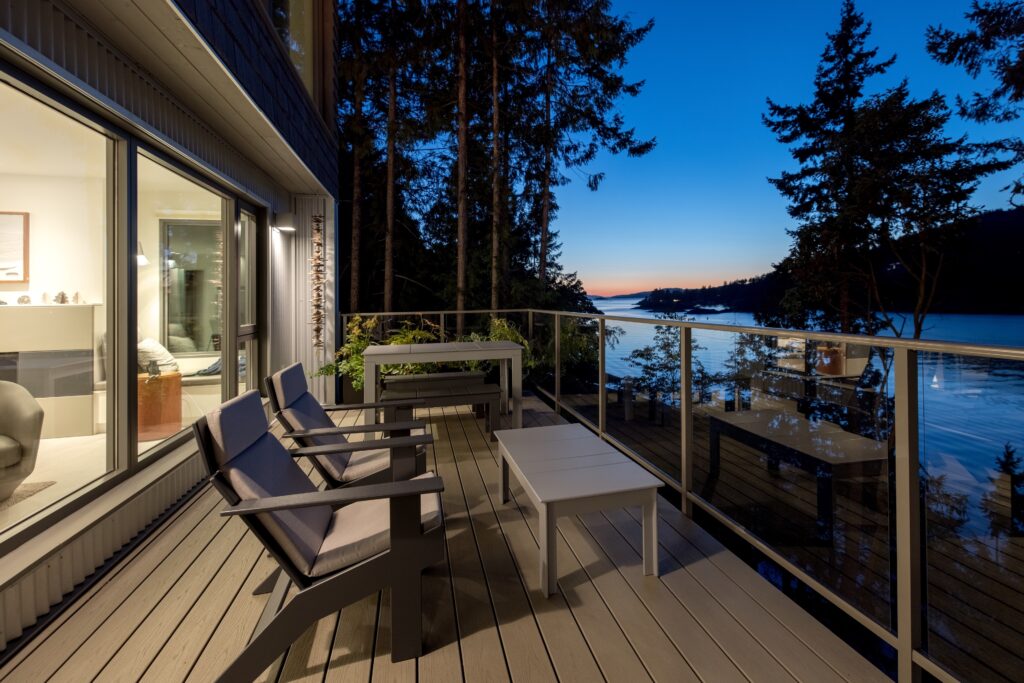 Your self-contained Sea Forest suite features: kitchenette with dishwasher and pantry, gas fireplace, private deck and entry with patio and two-person hot tub overlooking Pender Harbour. Landscape steps connect ocean deck with private beach. Kayaks, and SUPs (stand-up paddles boards) can be rented locally and stored on our beach or bring your own. Complimentary fast WIFI.
Provisions are only 5 minutes away, with IGA grocery store, Oak Tree Market, liquor store and pharmacy conveniently located in nearby Madeira Park.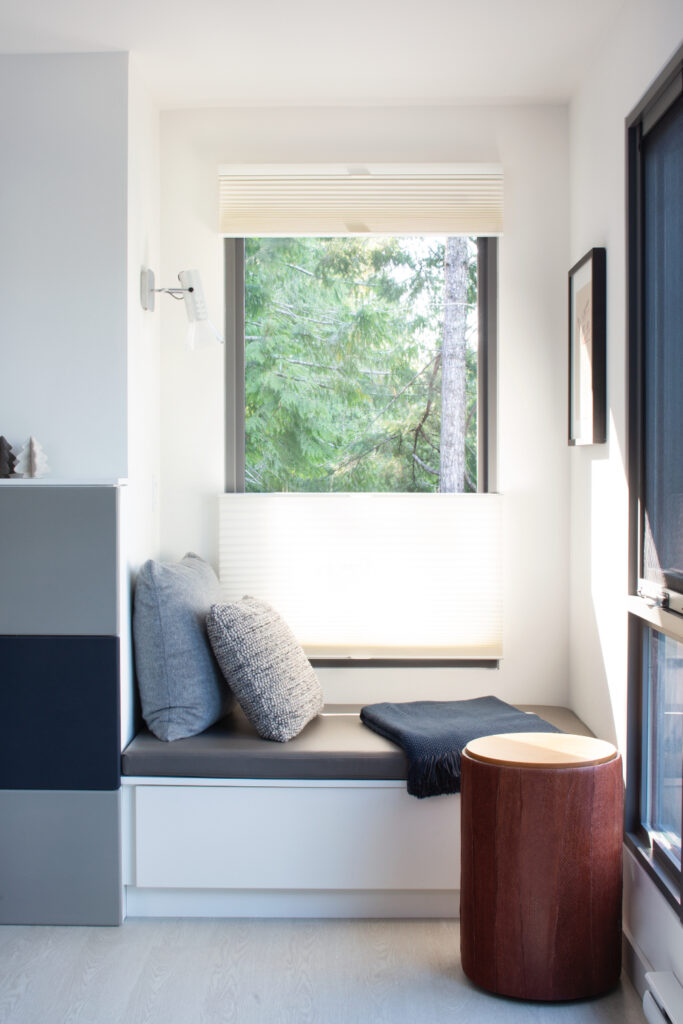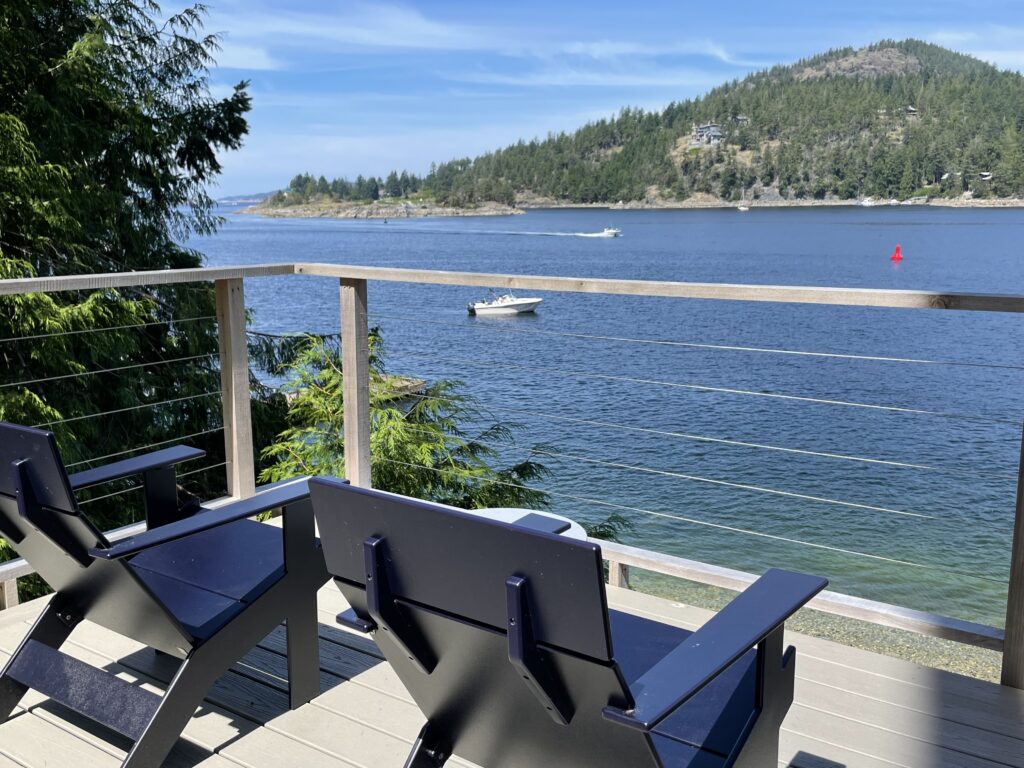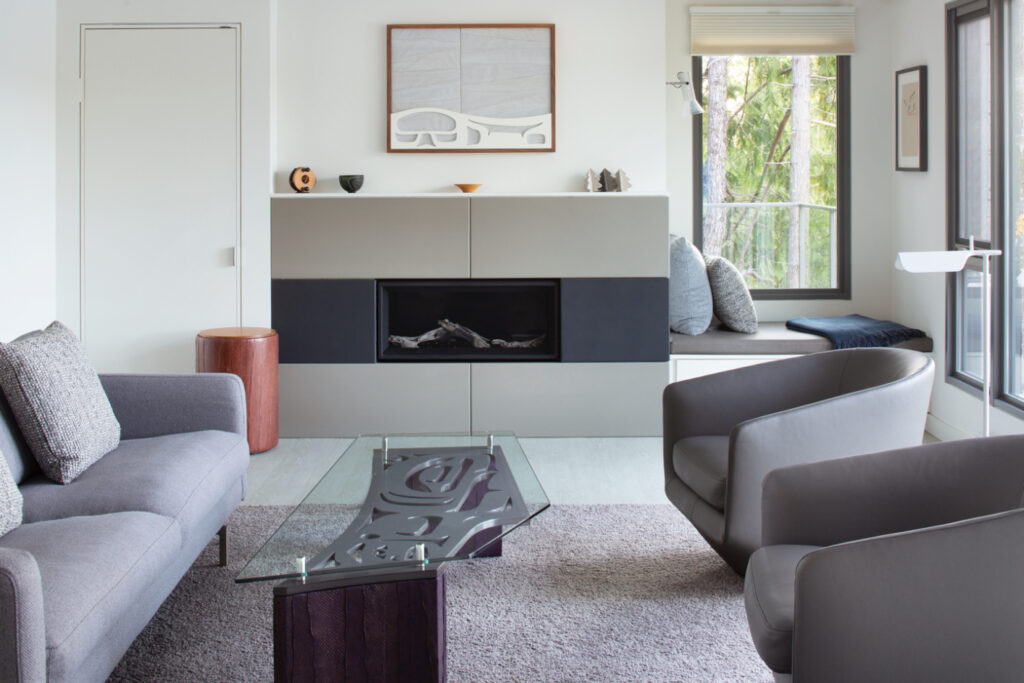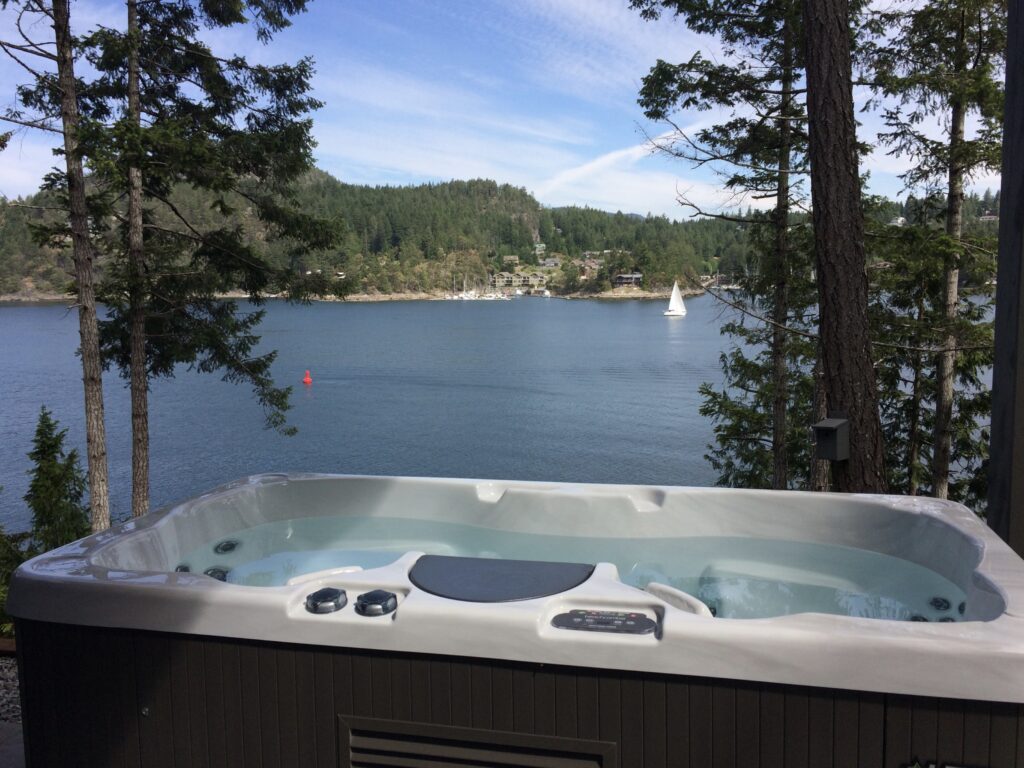 THUNDERBIRD ROOM
Sabina riffs on her limited edition Thunderbird Chair to create this floor to ceiling mural with diamond tufted leather headboard. Scaled up and reimagined with a calming colour palette, Sabina merges First Nations artist Andy Everson's elegant formline motifs with her contemporary modern interpretation. In traditional Coast Salish culture the thunderbird is considered a supernatural being of power and strength.
Private entry, deck and ocean view, king bed, three-piece ensuite with shower, linen closet, closet, dresser, wall mounted TV (Netflix & Crave available).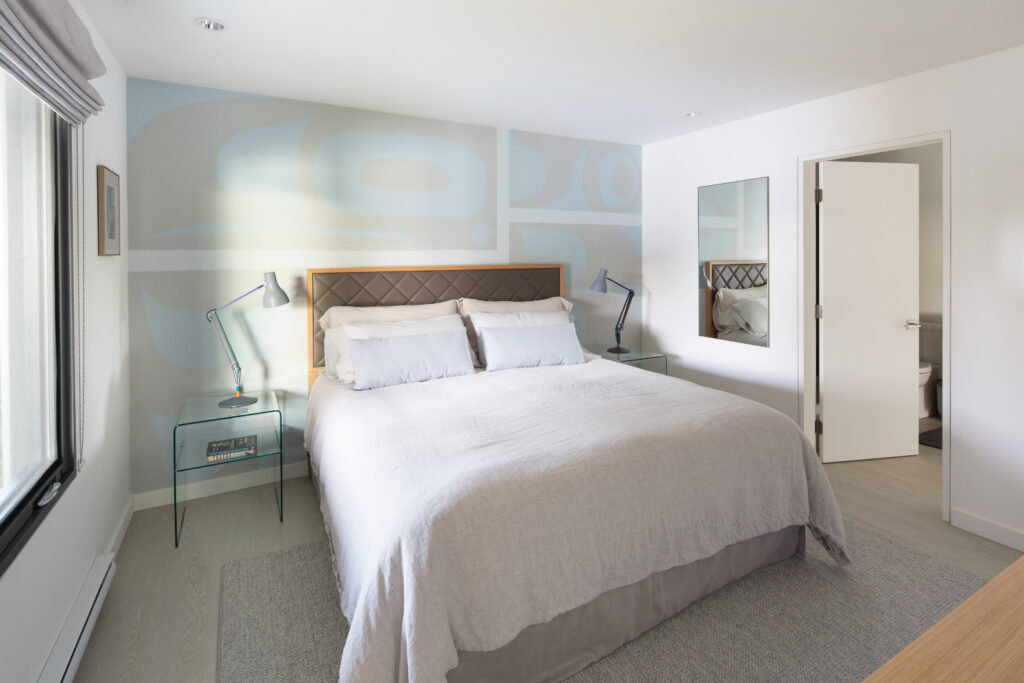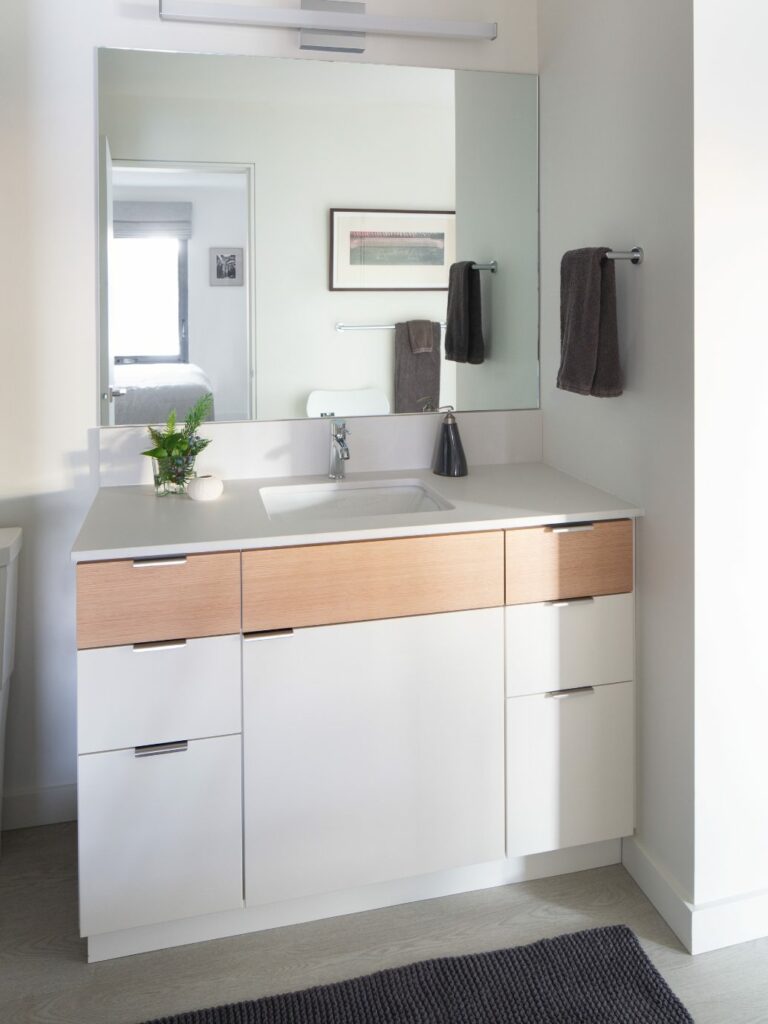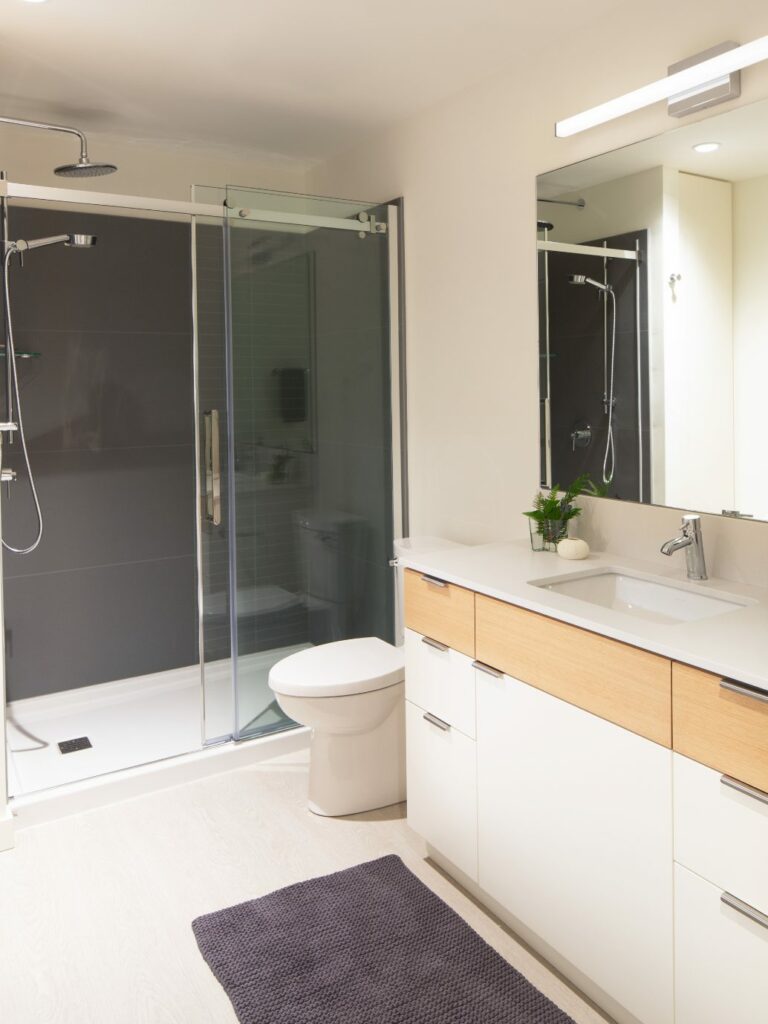 FROG ROOM
Sabina reimagined and reconfigured the frog motif created in collaboration with Mark Preston. This redux version features a hand-sewn felt diptych. The Frog is considered a spirit helper, traversing the natural and supernatural worlds guiding guests in their transition from waking to dreaming.
Private deck with ocean view, queen bed, three-piece ensuite with shower, linen closet, built-in walnut desk with high-speed internet connection, dresser, bookshelf and closet.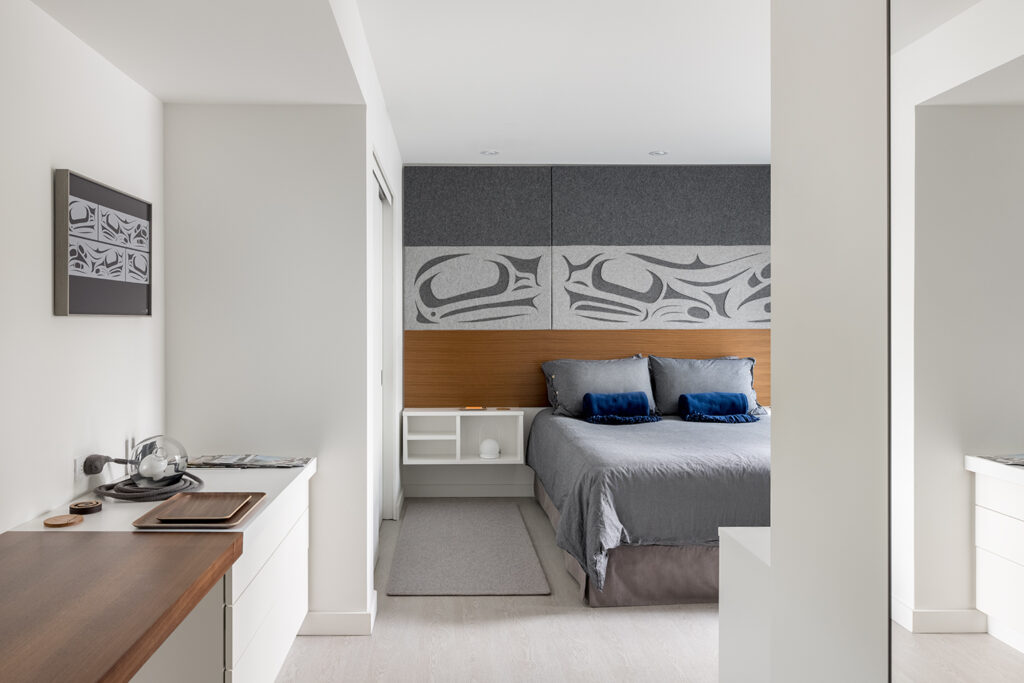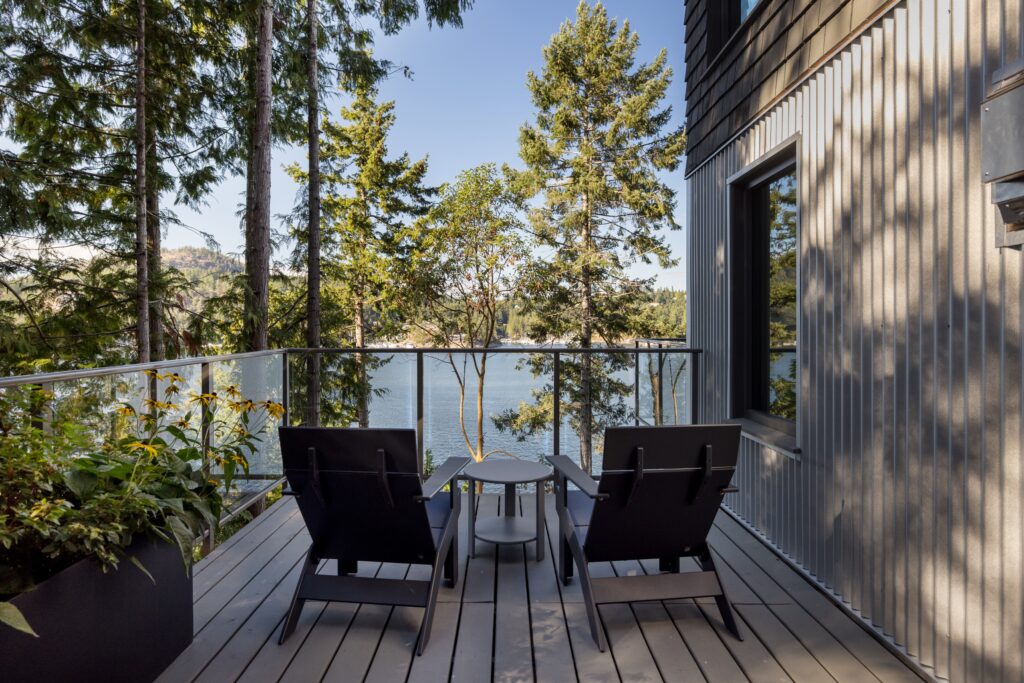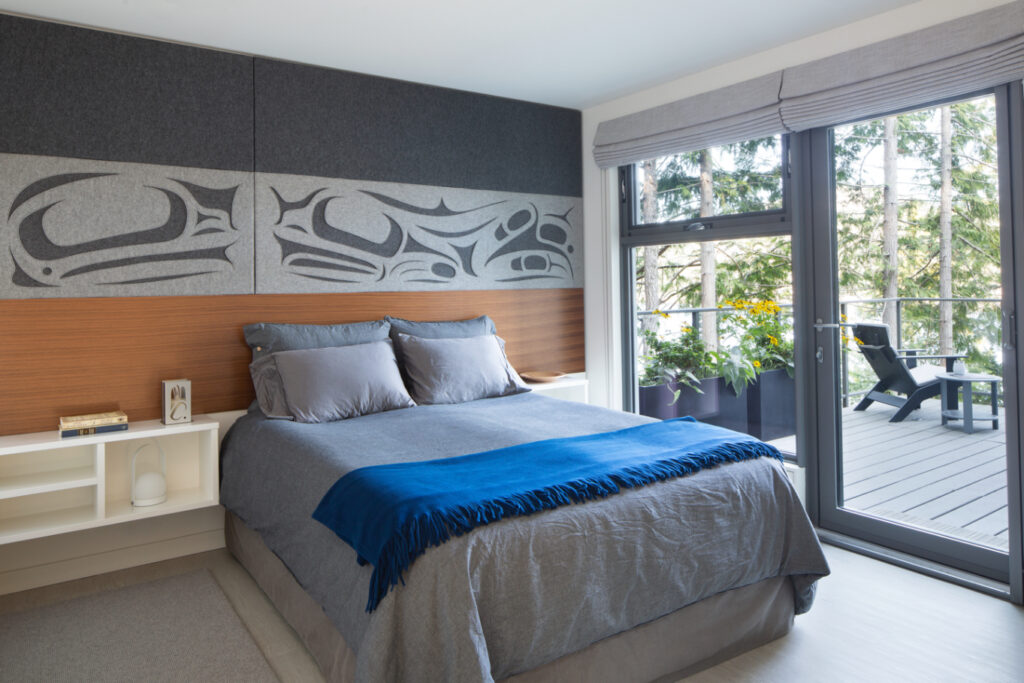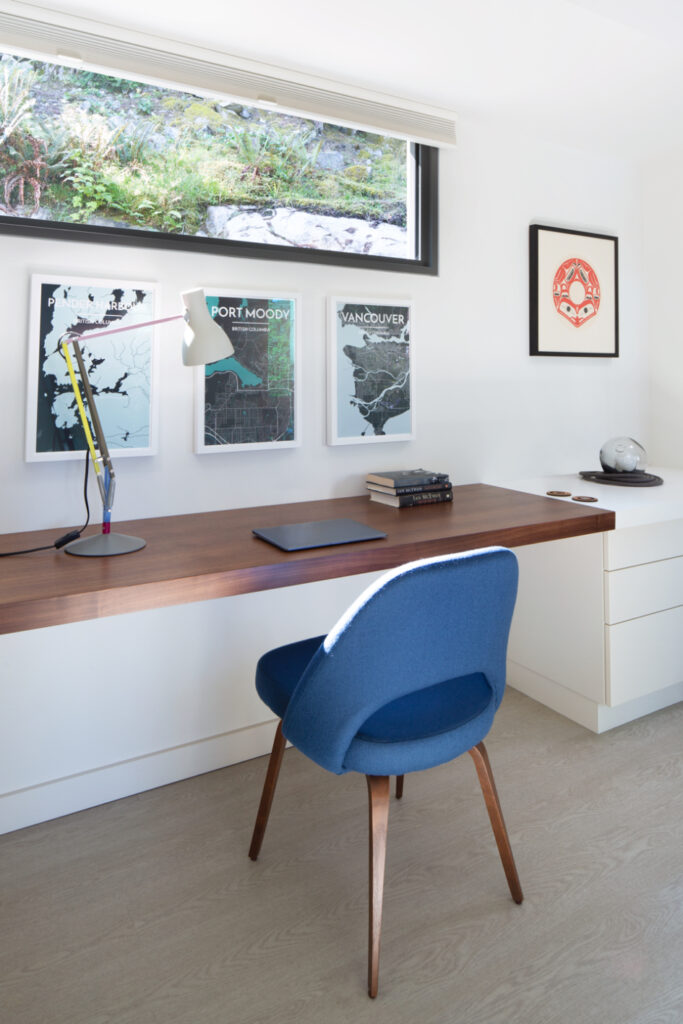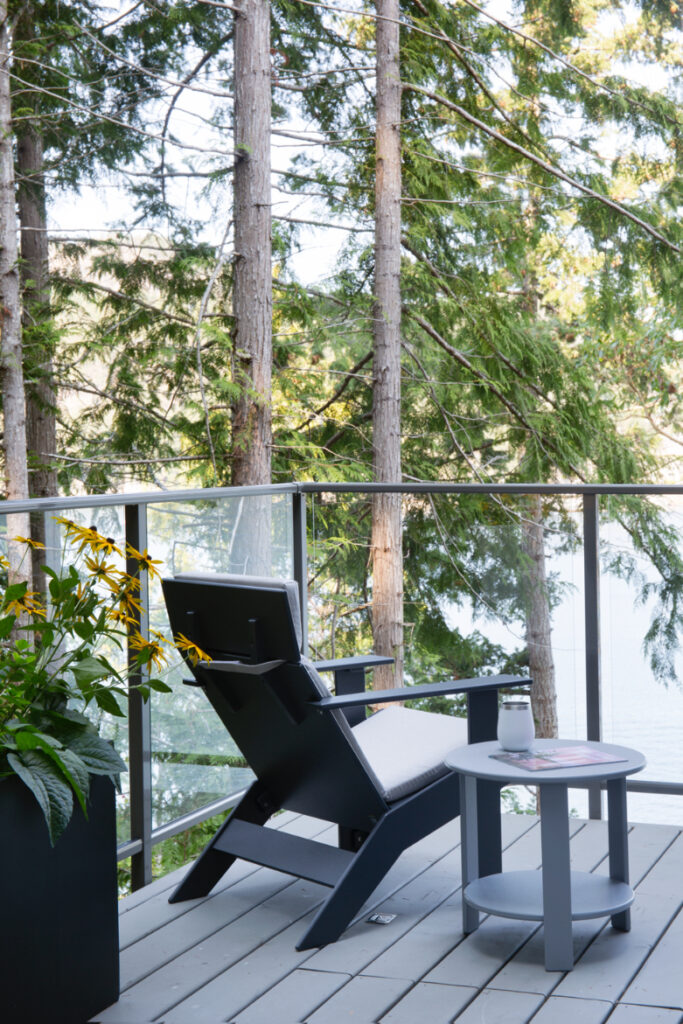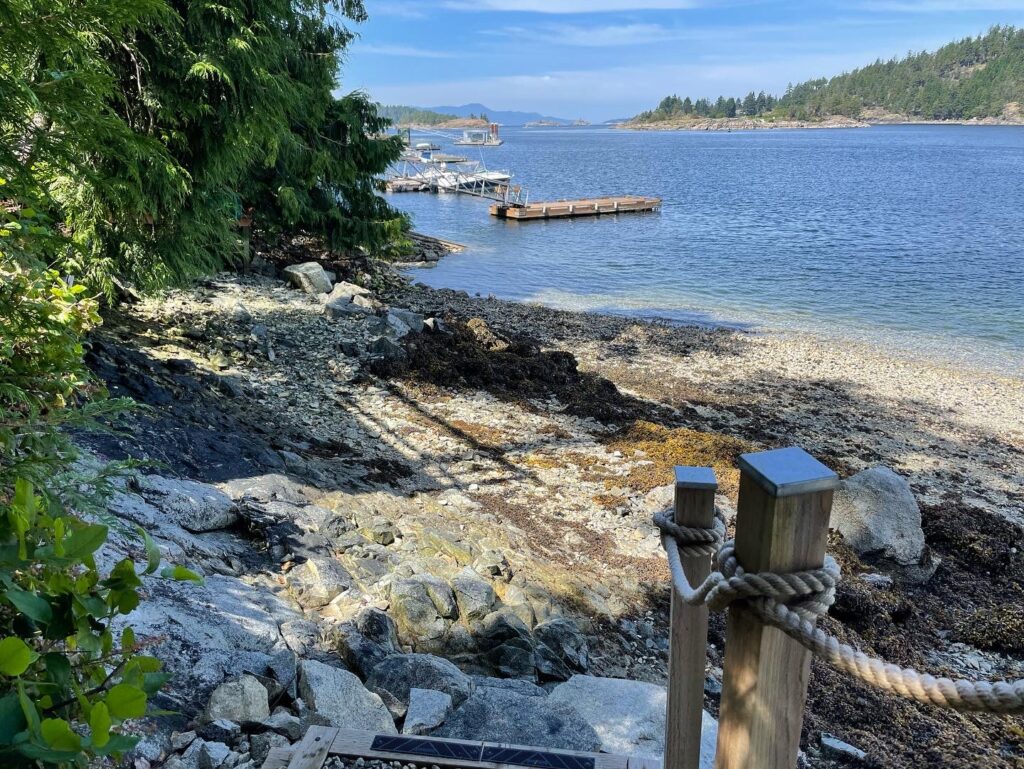 "A visit to Madeira Park and my stay in the Sea Forest Guest suite was a quintessential West Coast experience. Staying in a unique architectural creation resting on a waterfront slope there are water and nature views from every room. Sabina Hill's art and design in furniture, wall hangings and original art create a feeling of peace and a connection to the history of the coast. No attention to detail is spared to make your stay unforgettable. Peace. Nature. Beauty."
Karin Currie Morris, West Vancouver, BC
"If I was a poet I would craft the words to describe …not being a poet…all I can say is 'SUPERB', in every way! Thank you!"
Trudy & Chester, New Westminster, BC
"Wow!! What an amazing place you have created. It was wonderful to experience your vision. Your home is a showcase for your immense talent. Beautiful design and superb style. And, the beds….we could have stayed in bed the whole time."
Barry & Teresa, Vancouver, BC
"What an amazing place! A great pleasure to see all the amazing art work. The house was fantastic as are the views. The hosts are second to none!"
JoAnne & Lois, Kelowna, BC
"It felt as if we were staying in a super-comfy art gallery with spectacular views. The hosts were wonderful. We so enjoyed our stay in the Frog Room and spotting the Orcas from our sundeck was incredible! Can't wait to return."
Marnie & Kevin, North Vancouver, BC
"Our stay at the Sea Forest guest suite was so memorable. The suite's aesthetic is beautifully done. It overlooks the water which makes it a super relaxing setting. Not only is it beautiful, but very comfortable as well. It has everything you need for your stay. Love just showing up and not having to worry about anything! Sabina and Darcy were very friendly and respectful of our privacy. Great hostesses! All the convenience stores are close by. As the suite has a path to a private beach, we spent a lot of time on paddle boards exploring the harbour. Could not have asked for much more! Truly a great location. We will for sure stay here again! Worth every penny!"
Diane & Pascal, Vancouver, BC
"Thanks for a wonderful stay! Your live-in gallery is spectacular. Loved relaxing by the sea, watching the eagles, seals and otters. It was such a breath of fresh air to be here. Can't wait to come back soon."
Romilly, Vancouver, BC
"Thank you so much for sharing your little piece of heaven with me. It's absolutely stunning and I have enjoyed every minute here. I enjoyed exploring the area and then relaxing in front of the fire place."
Glenda, Port Moody, BC